Parting/Grooving System offers PCD and CBN grades.
Press Release Summary: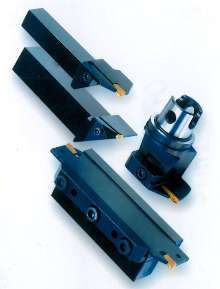 ValGROOVE(TM) System is available in VSG single-edge and VTG twin-groove, double-edge insert styles. Single-edge style includes 5 geometries for general, light, precision, radius, and under-cut grooving. VSG inserts are available in 3 carbide grades with TiCN/Al
2
0
3
/TiN CVD coating, multi-layer PVD TiAlN coating, and uncoated. VTG double-edge inserts include geometries for general grooving and turning, and come in 2 carbide grades, plus PCD and CBN insert styles.
---
Original Press Release:

Valenite Introduces Versatile Valgroove(TM) Parting and Grooving System


New single and double edge inserts with new geometries, new grades and new PCD & CBN insert styles expand the options for users

Valenite is introducing a completely new parting and grooving system, called ValGROOVE(TM) that provides more options, more features and more benefits than other available systems. The key differentiating factors involve superior single and double edge insert designs, new chipbreaker geometries, improved grade technology including PCD & CBN, improved face grooving options, and the complete range of proven tool block, integral and modular tool holders for parting, grooving, turning, undercut grooving, profiling, internal and face grooving.

The ValGROOVE(TM) system is available in both VSG single edge and VTG "twin groove" double edge insert styles. The VSG single edge style includes five different insert geometries. GG is for general grooving of steels or cast iron, LG for light grooving in stainless steels, ductile and work hardening materials, PG for precision grooving where low cutting forces and good chip-control are required, RG for radius grooving in all materials, especially stainless steel and heat resistant materials and UG with an increased clearance angle for under-cut grooving. VTG double edge insert styles include the GG geometry for general grooving and parting operations and a new TG geometry for turning, face grooving and plunge grooving of steel components.

The VSG single edge inserts are available in three new carbide grades. VP5735 is a grooving grade primarily for steels. It has a TiCN/Al203/TiN CVD coating on a tough substrate. VP5820 is a multi-layer PVD TiAlN coating combined with a micro-grain substrate for increased abrasive and chemical wear resistance. VPUK20 is an uncoated general-purpose grade for cast irons, high temperature alloys, aluminum alloys and non-ferrous materials.

The VTG double edge inserts are available in two new carbide grades plus new PCD & CBN insert styles. Like the VSG styles, VTGs are available in VP5735 and VP5820 grades. In addition, VPD720, a multi-purpose PCD grade with broad application is available as well as VPB125 a CBN grade for grooving hardened materials and cast irons.

The Valenite ValGROOVE(TM) system includes the complete range of steel tool holder styles including tool blocks, parting blades, integral shank tool holders, small shank tool holders, deep groove tool holders, and modular VM tool holders for 90-degree and axial cutting. The Valenite insert seating design on the top and bottom of the insert insures superior stability in the steel components.

Valenite is one of the largest manufacturers of industrial cutting tools in the world. Headquartered in Madison Heights, Michigan, Valenite has manufacturing, sales and service
operations on five continents. The company offers a complete line of standard and special indexable-insert turning, threading, grooving, boring, milling and drilling products to a
variety of industries. Valenite also manufacturers carbide die and wear parts, extruded carbide products, high-speed steel cutting tools, and electronic gaging systems. In addition, special high-production tooling for custom machining systems is produced under the MODCO® name. Valenite also markets the VALCOOL line of cutting fluids.

More from Computer Hardware & Peripherals