Particle Sizer targets automated cement plant laboratories.
Press Release Summary: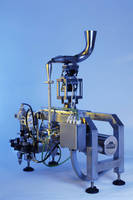 Suited for off-,on-, and at-line cement analysis, laser diffraction particle sizing system Insitec Cement LabSizer offers high performance for large volume dry powder samples and delivers consistent particle size measurements. System can measure samples from 5 g to more than 150 g. Providing tool-free access to both sample feeder and measurement cell, modular instrument is compatible with any user set-up.
---
Original Press Release:

Malvern Introduces New Insitec Cement LabSizer



4 August 2009: Malvern, UK: The new Insitec Cement LabSizer from Malvern Instruments delivers consistent particle size measurements within the challenging environment of cement plant laboratories. Offering high performance for large volume dry powder samples it is especially suitable for the fully automated laboratories that are common within the industry. The new instrument extends Malvern's range of laser diffraction particle sizing systems for off-,on- and at-line cement analysis.

Characterizing particle size and size distribution (PSD) by laser diffraction offers a cost-effective, accurate and highly robust method of determining cement quality and strength. By enabling milling to tighter specifications, laser diffraction both increases throughput and reduces manufacturing costs while leading to a more consistent final product.

Malvern's new Insitec Cement LabSizer uses a highly versatile modular design, making it compatible with any customer set-up. With tool-free access to both the sample feeder and measurement cell, and having minimal maintenance requirements, the Cement LabSizer is easy to operate. Additionally, while many automated laboratory instruments necessitate control of sample quantity, the Cement LabSizer can measure samples from 5 g to more than 150 g.

Malvern's laser diffraction systems combine advanced technology with a highly dependable protocol for routine particle sizing measurements. Delivering the results required to optimize processing and reduce over-grinding, these systems have been shown to pay for themselves in as little as six months. www.malvern.com/cement

About Malvern Instruments

Malvern Instruments provides a range of complementary materials characterization tools that deliver inter-related measurements reflecting the complexities of particulates and disperse systems, nanomaterials and macromolecules. Analytical instruments from Malvern are used in the characterization of a wide variety of materials, from industrial bulk powders to nanomaterials and delicate macromolecules. A broad portfolio of innovative technologies is combined with intelligent, user-friendly software. These systems deliver industrially relevant data enabling our customers to make the connection between micro (such as particle size) and macro (bulk) material properties (rheology) and chemical composition (chemical imaging).

Particle size, particle shape, zeta potential, molecular weight, chemical composition and rheological properties measurements are now joined by advanced chromatography solutions (GPC/SEC), extending Malvern's technologies for protein molecular weight, size and aggregation measurements, and synthetic polymer molecular weight and distribution. The company's laboratory, at-line, on-line and in-line solutions are proven in sectors as diverse as cement production and pharmaceutical drug discovery.

Headquartered in Malvern, UK, Malvern Instruments has subsidiary organizations in all major European markets, North America, China, Korea and Japan, a joint venture in India, a global distributor network and applications laboratories around the world. www.malvern.com

USA contact:

Marisa Fraser,

Malvern Instruments Inc.

117 Flanders Road,

Westborough,

MA 01581-1042

USA

Tel: +1 508 768 6400;

Fax: +1 508 768 6403

marisa.fraser@malvern.com

Please send sales enquiries to:

Alison Vines,

Malvern Instruments Ltd

Enigma Business Park,

Grovewood Road,

Malvern,

Worcestershire WR14 1XZ

UK

Tel: +44 (0) 1684 892456;

Fax: +44 (0) 1684 892789

salesinfo@malvern.com

More from Machinery & Machining Tools