Particle Counter has dynamic range of 0.3-10.0 µm.
Press Release Summary: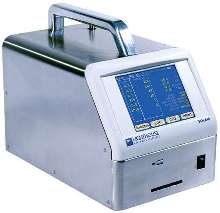 SOLAIR 3100+ stores particle count data for 6 particle size channels as well as data from up to 4 environmental sensors. Data can be downloaded to computer or printed to built-in thermal printer. Portable counter offers 0.3 micron sensitivity at 1.0 cfm flow rate and has 5.7 in. color touch-screen display. Product utilizes optical particle counting technology and has stainless steel enclosure that houses 32-port universal manifold.
---
Original Press Release:

Solair 3100+ Battery Operated Portable Particle Counter


0.3µm @ 1.0 cfm 6 channel particle counter with touch screen color display

The SOLAIR 3100+ is designed with a large, color touch screen interface that is simple to configure and operate. The SOLAIR 3100+ can store a large amount of particle count data for 6 particle size channels and data from up to 4 environmental sensors. All data can be quickly and reliably downloaded to a computer or printed to its built-in thermal printer. The unit runs on a removable Li-Ion battery or on standard AC power. The SOLAIR 3100+ comes with a two-year warranty.

The SOLAIR 3100 line of portable counters offers a sensitivity of 0.3 micron and a flow rate of 1.0 CFM (28.3 LPM) with a wide dynamic range up to 10.0 microns.

Demonstrating versatility, the SOLAIR can be used as a portable instrument or integrated into a larger facility monitoring/management system. Dependable and reliable, the Lighthouse SOLAIR 3100 line of laser particle counters uses the latest in optical particle counting technology.

Features
· 0.3 µm Sensitivity
· 1.0 CFM (28.3 LPM) Flow Rate
· User Removable, Rechargeable, Li-Ion Battery
· View 6 Particle Sizes Simultaneously
· Stainless Steel Enclosure
· Wide Dynamic Range, 0.3 to 10.0 µm
· Up to 4 Environmental Sensors
· 5.7" (14.47 cm) Color Touch Screen Interface
· Built-in Thermal Printer
· Large Memory for Storing Data
· Data Reported in Normalized Counts: FS-209E, ISO-14644-1 or BS-5295
· Internal Audible Alarm
· Small Footprint
· Data Easily Downloaded to Computer

Benefits
· 2-Year Warranty
· User Friendly Interface
· Easy to Read Display
· International Support
· Low Cost of Ownership
· Easy Interface-32 Port Universal Manifold

Applications
· Cleanroom Monitoring
· Facility Certification
· Facility Monitoring
· Filter Testing
· Cleanroom Laundries
· Cleanroom Packaging
· Aerospace
· Hospital Surgical Rooms
· Pharmaceutical
· Medical Device Assembly
· Hard Disk Drive Manufacturing
· Food Processing Area
· Paint Spray Booths


More from Mechanical Components and Assemblies