Universal Process / Temperature Controllers
Partial Precision Landing in Short Cycles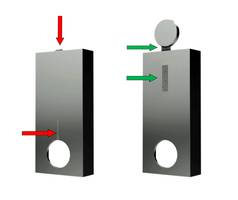 Flexible tool temperature control solution Z-System from hotset impresses injection molders
The thermodynamics engineers at hotset have hit the jackpot with the development of the Z-System for partial-cyclical cavity temperature control. More and more injection molders and tool manufacturers are choosing to use this high-speed method thereby optimizing the surface and structural design of their products. Most recently, the interest of trade visitors exceeded all expectations at Fakuma. In Friedrichshafen, reputable players from the consumer industry and automotive manufacturing were fascinated with the advantages of the Z-System.
Satisfied faces and cheerful experts from injection molding technology and tool manufacturing were seen at hotset's Fakuma trade fair stand in mid-October. This may have been due to the exceptionally charming performance of famous pantomime Bastian, or it certainly could have been because of hotset's Z-System, the innovative solution for the targeted and cyclical temperature control of injection molding tools. "Since the initial introduction barely two years ago, a number of well-known plastics processors have chosen to use our high-speed method for process-integrated surface optimization and wall-thickness reduction of injection molded parts. Reputable big players from the consumer industry and automobile manufacturing also expressed their great interest", Ralf Schwarzkopf, General Manager of hotset, reported. According to Schwarzkopf, the conversations at the trade fair weren't only about the visual quality improvements of injection molded parts, but also about the new possibilities of micro-structuring and miniaturization that result from application of the Z-System.
Perfect surfaces and fine structures
The Z-System from hotset is considered to be a technological forerunner for a new generation of highly flexible and dynamic temperature control systems for injection molding technology. Professor Dr. of Engineering Paul Thienel, founder and former General Director of the Plastics Institute Lüdenscheid, considers it to be "an important further development of vario-thermal temperature controlling". It gives tool manufacturers in the industry an innovative system solution for the accurate temperature-control of cavities, where process-related weld lines and dullness on the surface of molded parts are reliably prevented. In addition, the integration of the Z-System in the tool also enables injection molding of very thin walls, as is typical for partial thin-wall injection molding.
As hotset presented at the last Fakuma, the Z-System is available as a complete solution that is custom-tuned and ready for use, including matching control technology with color touchscreen. It consists of various hardware and software components and is integrated in the tool - comparable to a conventional hot runner system. Synchronized with the injection molding process, the cavities can be selectively or partially heated or cooled. This is done with a near record-breaking heating rate of up to 60 Kelvin per second, which is why experts like Professor Dr. of Engineering Paul Thienel speak of a "high-speed temperature control system". It allows for very fast changes in temperature in very short cycles.
What's more: during a recently implemented customer project, it was also revealed that its use substantially improved the flow of the casting compound in construction-related "bottle-neck" areas. It is very well possible that the Z-System from Lüdenscheid will get a satisfied smile from tool manufacturers or injection molders in the future as well.
Contact This Company Download Spec Sheet
More from Agricultural & Farming Products