Part Sensing Light Screen detects miniature objects.
Press Release Summary: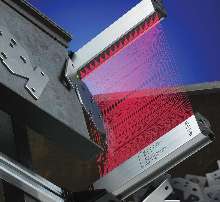 LX Series light screen combines each diode of electronics system as part of up to 11 light beams that generate nearly solid crosshatch pattern. Achieving detection of objects as small as 0.025 in., series offers response speeds as low as 0.8 msec. Available in 3, 6, or 12 in. sensor lengths, series offers aluminum housing with T-slot. Offered with bipolar NPN and PNP outputs, 10 to 30 Vdc series opposed-mode sensing light screens have max output of 150 mA.
---
Original Press Release:

New Part Sensing Light Screen Features Extraordinary Miniature Object Detection



Minneapolis, MN-May 2, 2003-Banner Engineering Corp. Banner Engineering Corp. has announced new LX Series high-speed, high-resolution part sensing light screens. Each diode of the LX's unique electronics system becomes a part of up to 11 light beams to generate a nearly solid crosshatch pattern and achieve detection of extraordinarily small objects of just 0.025". The LX also features response speeds as low as 0.8 milliseconds making it ideal for applications where high-speed miniature object detection is required.

"Users are looking for three major capabilities in an object sensing light screen; multiple sensor lengths, faster response speeds and increased ranges for similar detection sizes," said Mike Dean, Product Director for Banner's Measurement and Inspection Products Division. The LX is available in 3", 6" or 12" lengths, they feature an aluminum housing with a convenient T-slot for mounting flexibility and are setting the industry standard for high-performance object detection light screens. Users can choose from short or standard range light screen pairs depending on their application requirements.

Compact size, high sensing speed, rugged construction and ultra-high resolution make the LX an ideal sensor for part ejection and conveying applications. As ejected objects pass through the sensing beams, the sensor's outputs relay to the machine that it may proceed to the next cycle. This verification process protects costly metal stamping dies from damage due to stuck or jammed stamped pieces which have not registered as having cleared the process.

The new system is easy to set up and simple to use with correct sensor alignment clearly indicated via status LEDs. Variable sensor height, convenient bracket options and long-range sensing capabilities of the LX also make it well suited for conveyer applications where the sensor is looking for the leading edge of objects varying in height, but occurring at similar intervals within a given range. This includes parcel handling and "flat finding" of envelopes or flat parcels in a conveyed application.

The 10 to 30V dc LX Series opposed-mode sensing light screens have a maximum output rating of 150 milliamps. Models come with bipolar NPN and PNP outputs. The compact but rugged sensors tolerate vibration, mechanical shock, and washdown. Internal circuitry guards against false pulse on power-up, continuous overload, and short circuit of outputs. Pricing starts at $350.00.

Banner Engineering is the world's leading manufacturer of precision measurement systems, electronic machine guarding systems, photoelectric and ultrasonic sensors and fiber optic assemblies. For further information, contact: Banner Engineering Corp., 9714 Tenth Avenue North, Minneapolis, MN 55441. PH: 888-373-6767 (Toll-free North America), or 001-763-544-3164 (International). FAX: 763-544-3213. email: sensors@bannerengineering.com e-commerce: www.buybanneronline.com Web:www.bannerengineering.com

More from Computer Hardware & Peripherals