Part Present Sensor offers measuring accuracy to 0.01 mm.
Press Release Summary: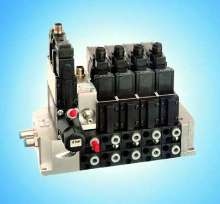 Pneumatic Sensing System, Model MS01, controls presence, position, shape, and dimensions of test objects. Object is scanned using air jet from sensor nozzle. Simultaneous evaluation of previoulsy defined pressure sends output to user in form of electrical signals, which are processed by machine control and displayed on module. Integrated air blowing function prevents measured results from being incorrectly influenced by contaminants.
---
Original Press Release:

Pneumatic Part Present Sensing from Rexroth for Reliable Process Accuracy


Company to exhibit the MS01 pneumatic part present sensing system at IMTS, September 8-15, 2004, at the McCormick Place Complex in Chicago, IL; Booth # D4240.

The new Rexroth MS01 pneumatic part present sensing system offers precise measuring accuracy up to 0.01mm.

The speed and precision of many of today's most productive machines often depends on exact positioning of parts during automatic feeding and processing. Rexroth has developed a pneumatic modular system to monitor part presence that fulfills the strictest user demands in terms of technology, user-friendliness and size.

The new compact system controls the presence, position, shape and dimensions of test objects. The object is scanned using an air jet from a sensor nozzle. Simultaneous evaluation of the previously defined pressure sends an output to the user in the form of electrical signals. These signals are processed by the machine control system and displayed on the module. The control system either releases the workpiece for processing or stops the process, improving the quality of the test object and avoiding errors.

The MS01 thus offers potential savings of time and money for a wide variety of application possibilities many industries, especially machine tool or automotive.

When used with the proven CD01 valve system, the MS01 can be integrated into any machine and combined in a system solution of up to six test modules. It requires minimum assembly and installation.

The technical design of the system makes it insensitive to primary pressure fluctuations.

The Rexroth MS01 pneumatic part present sensing system also provides extremely precise measuring accuracy of up to 0.01 mm. An integrated air blowing function prevents the measured results from being incorrectly influenced by contaminants such as shavings or coolant, also providing regular surface cleaning. The air blowing function can be regulated to keep compressed air consumption to a minimum, making the MS01 much more efficient than most other pneumatic systems available. A combination of optical and mechanical system components also allows you to quickly and easily set the correct gap limit between the workpiece and the sensor nozzle.

Bosch Rexroth Corporation, a merger of Bosch Automation Technology and Rexroth, is a wholly owned subsidiary of Robert Bosch GmbH. In the year 2003, Bosch Rexroth AG achieved sales of $4.4 billion (3.7 billion Euros) with 25,700 employees.

Under the brand name of Rexroth, the company offers all relevant drive, control and motion technologies: from mechanics, hydraulics and pneumatics to electronics and associated services. Rexroth has 500,000 customers in over 80 countries and is an extensive supplier of components and systems for industrial and factory automation and mobile applications.

Submitted by:
John Bridges
Marketing Services Mgr.
Bosch Rexroth Corporation
Pneumatics