Part Ejection Tool minimizes mold construction time.
Press Release Summary: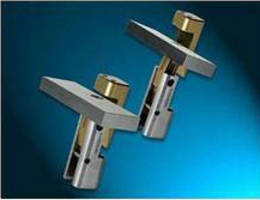 Able to reduce mold construction time, Quick Strip eliminates need for ejector plates and pins, risers, and clamping plates. Absence of ejector pin holes also lends to cooling systems optimization and accelerated cycle times. Because this tool lifts part from mold cavity without leaving any marks, overall aesthic quality of part is ensured.
---
Original Press Release:

DME Launches Revolutionary Part Ejection Tool



Quick Strip eliminates ejector pin marks, reduces cycle time and decreases moldmaking costs

Madison Heights, Mich. - DME Company is pleased to introduce Quick Strip, the newest innovation in mold making part ejection. Quick Strip is a global, standardized off-the-shelf product that significantly reduces mold construction time and costs.

Implementing a Quick Strip eliminates the need for ejector plates and pins, risers and clamping plates, resulting in lower part costs, machining and maintenance. With the absence of ejector pin holes as obstacles, cooling systems can also be optimized leading to faster cycle times. Click here to see an animation demonstrating how Quick Strip works.

This revolutionary concept in part ejection technology was conceived by a German moldmaker looking for ways to be more competitive. He devised this system and found it saved him 50 percent on his mold costs.

"The Quick Strip introduction is part of our new approach to product development," said Dave Lawrence, president of DME Company. "This is the perfect example of DME and industry inventors coming together to commercialize a product that is essential to the continued success of our customers and their competitiveness in the industry."

Beyond cost and time savings, the Quick Strip offers cosmetic advantages for parts where aesthetics is a critical factor. Because the Quick Strip "lifts" the part from the mold cavity rather than pushing it like an ejector pin, there are no marks left on the part. Molder/moldmaker Deva, Lemgo, Germany, and OEM Hans Kroner Formenbau, Schloss Holte-Stukenbrock, Germany, used the Quick Strip on their last project making parts for the Airbus A380 for that very reason.

"We were immediately interested when DME presented the new Quick Strip concept to us," said Dirk Schmeling, general manager at Deva Kunststoff-Technik GMBH. "We were molding parts for the Airbus and because of aesthetic requirements, ejector pin marks can't be visible. We achieved higher surface quality using the Quick Strip and reduced the mold construction time and costs considerably in the process."

The patented Quick Strip has been tested extensively and can currently be used with many applications. This addition to DME's ever growing line of global off-the-shelf products is available in three standard sizes and promises significant savings. Machining and maintenance time is cut in half and costs for the Quick Strip versus traditional ejector equipment are over 20 percent lower. The result means more profitable projects completed faster to help customers once again be more competitive in the challenging marketplace.

For more information contact: Chuck Azzopardi at (248) 544-5734 Chuck_Azzopardi@dme.net

More from Electronic Components & Devices