Parkinson Technologies Expands Manufacturing Capabilities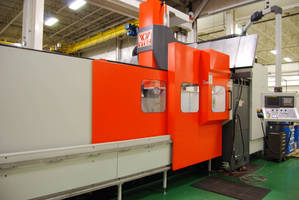 Company purchases new Vision Wide CNC bridge mill for large part machining

Woonsocket, RI - Parkinson Technologies has upgraded and expanded its in-house manufacturing capabilities with the purchase and installation of a new Vision Wide VF-4026 double-column bridge mill.

The new machine, installed in November, features X and Y travels of 165" and 102" respectively, and enables Parkinson to produce large, complex parts with improved productivity and precision. Typical parts that would be produced on the new machine include side frames for Parkinson winders and large components for Marshall & Williams machine-direction orientation (MDO) and transverse-direction orientation (TDO) film and sheet production systems.

"By adding this new machine we have greatly improved our manufacturing operations and reduced our machining lead times," said David Perron, Manufacturing Engineer at Parkinson. "It allows us to gain more control over the cost and finished quality of our machined parts."

Perron said that the speed and efficiency of the new machine has already shown dramatic improvements, such as reducing the production time of some parts by up to 65%. It can drill 4x faster than previous machines, eliminates setups on certain parts, and features increased accuracy over older machines which helps reduce rework times.

In addition, by purchasing and installing the machine before the end of 2009, Parkinson took advantage of the 50% bonus depreciation savings offered through the US Economic Stimulus Act.

"Despite the sluggish economy, we continue to invest in our company to improve our operations and better serve our customers," said Pete Termyn, President & CEO of
Parkinson Technologies. "It's critical that we maintain world-class manufacturing capabilities in the US."

About Parkinson Technologies Inc.

Parkinson Technologies is an industry leader in the development, design and manufacturing of production-scale web processing machinery for the plastics, nonwovens, paper and specialty materials industries. Product brands include PARKINSON winders, DUSENBERY® converting systems, MARSHALL & WILLIAMS biax orientation lines and KEY FILTERS extrusion melt filtration equipment. With a world-class pilot plant facility, Parkinson also offers its customers complete flexibility to conduct plastics sheet/film extrusion and orientation R&D and to produce commercially viable marketing samples. Parkinson's customers include a broad range of companies, from venture-backed startups to Fortune 50 enterprises, all of whom demand innovative solutions to their web processing challenges.


More from Electronic Components & Devices