Parking Equipment counts number of vehicles entering/exiting.
Press Release Summary: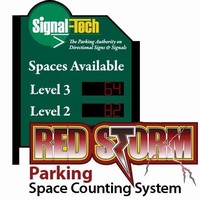 Red Storm can detect when a vehicle enters, exits, or moves from level to level in any parking facility, and incorporates signs that display available spaces in real time. Fully scalable, upgradeable, wireless differential counter can be configured to fit layout of any parking facility and and accommodate any traffic flow. Installation package includes 4 sensors/zone, one Red Storm control unit/zone, and optional signs including Overspeed, Caution Vehicle Exiting, and Car Coming signs.
---
Original Press Release:

Signal-Tech Introduces New Product for Parking Industry



Signal-Tech, a leading manufacturer of LED signs for the parking industry, is pleased to announce the completion of its newest parking product, the Red Storm.

The Red Storm is a wireless differential counter for parking facilities that counts the number of vehicles entering and exiting a parking facility.

A stand-alone system, each component of the Red Storm uses wireless communications, and does not require any special software or computer. Sensors detect when a vehicle enters, exits, or moves from level to level, and signs display available spaces in real time.

"The Red Storm is an exciting new addition to our line of parking equipment," said Phil Glass, head engineer at Signal-Tech. "This new product allows for the creation of a simple, all inclusive, space counting system. We have also addressed some common safety concerns by including optional over speed and cautionary signage."

Parking lot managers may view statistics, including the total number of vehicles counted in and out, average leave times, and the speed of each vehicle as it passes the sensors.

The Red Storm is a fully scalable system that can be configured to fit the layout of any size parking facility and traffic flow. It is flexible, field-upgradeable, and can be easily integrated into new or existing structures. The Red Storm is also cost-efficient and easy to install.

A parking facility's desired application of the Red Storm will determine what type of hardware it will need, however, the typical installation package includes four sensors per zone, one Red Storm control unit per zone, and optional signs, including Overspeed, Caution Vehicle Exiting, and Car Coming signs.

For more information about the Red Storm, please contact Signal-Tech via e-mail at sales@signal-tech.com; toll-free by phone at (877) 547-9900; or visit us online at www.signal-tech.com.

Company Name:
Signal-Tech
Address 1: 4985 Pittsburgh Ave.
City: Erie
State: PA
Zip: 16509
Country: USA
Phone: 877-547-9900
URL: www.signal-tech.com

Contact Name:Katie Fish
Organization: Title: Marketing Specialist
E-mail: katief@signal-tech.com

More from Electronic Components & Devices