Parker Static Dissipative PTFE On Display at OTC2015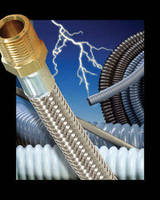 Parker Hannifin, the global leader in motion and control technologies, offers a static dissipative PTFE hose liner that provides a path for static electricity buildup to dissipate safely through the end fittings. This static dissipative hose also offers increased operator safety by reducing the chance of equipment malfunction and exposure to hazardous chemicals. In the offshore energy market, these liners are crucial for applications where flow-generated static electricity could occur causing potential damage to the hose and surrounding environment.



PTFE hoses are used for chemical transfer lines and high-temperature hydraulic applications. When conveying non-conducting fluids such as oils, fuels and steam at high velocities through natural PTFE, a static electrical charge can be generated. This electrical charge will try to find a path to ground and, in the process, could arc through the core tube as it grounds to the outer wire causing core tube damage and subsequent leakage.



Parker's static dissipative PTFE hoses are available in standard and heavy wall designs with sizes ranging from 3/16" up to 4" I.D., depending on style.  Series 929B, Heavy Wall Smoothbore PTFE, has up to 33% more PTFE than a standard hose, enhancing resistance to gas permeation. Convoluted PTFE (939B Series) utilizes an ultra-flexible, convoluted core tube construction that can be routed in tight areas without kinking and is self-draining. Both hoses offer excellent chemical compatibility and handle extreme temperatures from -100°F to +450°F (-70°C to +230°C). The PTFE core tube also has the lowest coefficient of friction of any material available, thus reducing pressure drops.



PTFE hoses are available from Parker Hannifin's Parflex Division and will be on display at OTC 2015 in Houston Texas at Parker Booth # 4416.



With annual sales of $13 billion in fiscal year 2014, Parker Hannifin is the world's leading diversified manufacturer of motion and control technologies and systems, providing precision-engineered solutions for a wide variety of mobile, industrial and aerospace markets. The company employs approximately 57,500 people in 50 countries around the world. Parker has increased its annual dividends paid to shareholders for 58 consecutive fiscal years, among the top five longest-running dividend-increase records in the SP 500 index. For more information, visit the company's website at www.parker.com or its investor information website at www.phstock.com.



More from Test & Measurement