Parker's TOUGHJacket™ Hydraulic Hoses with Enhanced Jackets Offer 100-times More Abrasion Resistance than Comparable Hoses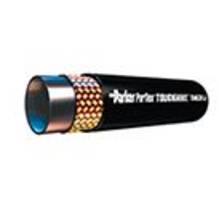 New hose family to be displayed and featured at IFPE2017 in Parker Booth #S-8242
RAVENNA, Ohio, January 16, 2016 - Parker Hannifin, the global leader in motion and control technologies, has expanded the Parflex hydraulic hose line with the introduction of a family of TOUGHJacket™ hydraulic hoses, designed to withstand the strains of large-scale, heavy-duty applications. The new hoses, featuring special Parker-formulated polyurethane jackets to meet industry requirements for mega/super tough abrasion resistance, exceed the abrasion resistance and durability of super enhanced rubbers by more than 100%.
These compact and light-weight hoses also offer ultra-low length change under pressure and superior UV resistance. The 563TJ hydraulic hose series offers the best change in length characteristics at +/-1%. This makes it an ideal solution for boom or cable track applications where long lengths are required because abrasion and length change are the biggest contributors to hose failure. The SAE acceptable change in length specification is +2% to -4%. Most hoses shrink at least 2% in a constrained environment which can be disastrous for the hose and cable tracks. If 100 feet of hose is run in a boom, it must accommodate for the extra four feet of hose that will be required due to shrink or run the risk of the hose pulling the fitting off the hose or destroying the cable track.
TOUGHJacket hoses are up to 40% lighter than competitor's products which means less counter weight, more payload and the ability to lift farther/higher. Its small O.D. makes routing easier in cable tracks and the ability to bond the hose enables the customer to easily pack and manage more elements per track or even eliminate the track. Twin or multi-line configurations are available to further reduce abrasion and/or prevent tangling.
The new hoses are available in four series, in sizes from 1/4" I.D. to 1" I.D. Key distinctions and performance criteria by hose series include:
• 560TJ: Meets SAE 100R1AT, MSHA. Lighter and smaller than 100R1AT with longer lengths.
• 563TJ: Meets SAE 100R17, MSHA. 3,000 psi constant working pressure. Lowest length change under pressure (+/-1%). Smaller O.D. and up to 42% lighter than comparable 100R17 hose.
• 590TJ: Meets SAE 100R2, MSHA, and 1/4" through 1/2" ABS approved. Two-wire strength, one-wire construction for improved bend radius.
• 594TJ: Meets SAE 100R19, MSHA. 4,000 psi constant working pressure.
Parker's new TOUGHJacket hoses will be on display in Parker booth #S-8242 at IFPE2017, March 7 - 11. For additional information, contact Greg Hayes, OEM sales manager, at ghayes@parker.com or call 330-296-2871.
About Parker Parflex Division
Based in Ravenna, Ohio, the Parker Parflex Division manufactures a wide variety of thermal products, including Thermoplastic and PTFE hose and tubing for the most extreme applications on the planet. In addition to standard hose and tubing products, Parflex engineers solutions for diverse applications, including construction, aerial lift and agriculture equipment.
About Parker Hannifin
Parker Hannifin is a Fortune 250 global leader in motion and control technologies. For 100 years the company has engineered the success of its customers in a wide range of diversified industrial and aerospace markets. Learn more at www.parker.com or @parkerhannifin.
More from Services