Park House at London's Finsbury Circus Upgrades Security with Boon Edam Optical Turnstiles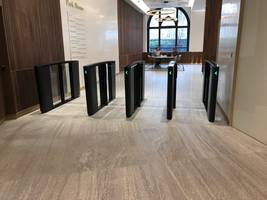 Lillington, North Carolina, May 13th, 2020 – Boon Edam Inc., a global leader in security entrances and architectural revolving doors, today announced that Park House, a commercial space located in London, has installed entry solutions at two separate main entrances to the building. One entrance features a special, European door model, the Circleslide sliding door; the other is outfitted with four lanes of Speedlane Swing optical turnstiles for increased lobby security.
Park House is a busy 195,000 sq. ft. office, retail, and apartment space with one main entrance facing Finsbury Circus, the last remaining section of London's oldest public park (opened in 1607). The other entrance faces Eldon Street, a location that is close to transit stations and easily accessible to commuters.
An Inspirational Building Design Levels Up Security at the Entry
In 2019, Park House underwent a renovation steered by Stiff + Trevillion, a renowned architect in London. The firm felt it was necessary to increase the efficiency of pedestrian traffic flow into the building and open another entrance near Finsbury Circus. This upgrade meant that another entry solution would be required in order to restrict access to certain areas of the building not meant for casual visitors. The firm selected the Boon Edam Speedlane Swing optical turnstile to control access and detect any tailgating attempts by unauthorized individuals.
Securing the Elevator Bank with Optical Turnstiles
The 2019 refurbishment project included the addition of a four-lane array of Speedlane Swing optical turnstiles, chosen for their slim cabinet design, swinging glass barriers and customized black powder coated finish. To secure the lanes to the floor, Stiff + Trevillion requested custom steel sub-floor baseplates to be placed between the finished floor and structural slab to add extra reinforcement and aid in accurate installation.
The facility managers at Park House take advantage of Boon Edam's regular service and maintenance on all their Boon Edam entrances to maximize the life span and performance of their investments.
About Royal Boon Edam
We are proud to be a third generation Dutch family business committed to making people feel welcome and secure through our quality engineered entry solutions. Headquartered in the Netherlands, with a footprint spanning the globe, Royal Boon Edam International is a premium manufacturer of revolving doors, high security doors, turnstiles and Speedlanes. A heritage that exceeds 140 years has resulted in wide expertise in managing the safe transit of people through office buildings, healthcare facilities as well as via public and private spaces. We are truly focused on adding genuine value to our customers entrances and to a long-term relationship after sales, service and maintenance. We partner, collaborate and become an extension to the customer team to ensure that the project, people and valuables are in safe hands with us. We are your entry experts. Discover more about our latest news at www.boonedam.us/news or follow Boon Edam Inc. on our blog, Facebook, Twitter, and LinkedIn.
For Further Information, Please Contact:
Tracie Thomas, Boon Edam
Vice President of Marketing
T 910 814 8239
E tracie.thomas@boonedam.com
For Media Queries, Please Contact:
Jayme Cunningham, LRG
Public Relations
T 845 358 1801
E jcunningham@lrgmarketing.com
More from Packaging Products & Equipment