Parallel Kinematic Machine offers 88.9 m/min rapid traverse.
Press Release Summary: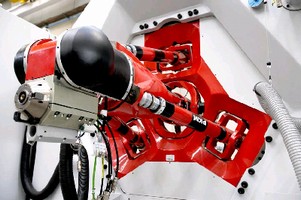 Offering 5-axis interpolated machining, Tricept T9000 can perform milling, drilling, routing, deburring and finishing, optical inspection and touch probing, fastener/rivet installation, and friction stir welding. Each strut delivers 990 mm stroke, giving machining reach of metric/inch in both X and Y and metric/inch in Z. Equipped with 6,000 rpm, 50 hp HSK63 spindle, machine delivers ±0.038 mm positioning accuracy and ±0.010 mm repeatability.
---
Original Press Release:

Parallel Kinematic Machining Brings Greater Flexibility, Agility and Multi-Function Efficiencies to Lean Manufacturing



New Tricept T9000 offers creative solutions to manufacturing improvement with universal capabilities, 5-axis interpolated machining, single set-up processing, and process tailoring

June 2008 - Manufacturers seeking greater flexibility, agility and multi-function capability can find a uniquely adaptable solution at IMTS in 5-axis interpolated machining by the Tricept T9000 parallel kinematic machine system. Proven with more than 300 installations worldwide at progressive aerospace, automotive, rail and general manufacturers, the amazingly versatile T9000 can perform milling, drilling, routing, deburring and finishing, optical inspection and touch probing, fastener/rivet installation, even friction stir welding with just a change of tooling. The universal machine is being exhibited on a Modular Element Systems (MES) platform that allows simple bolt-up reconfiguration between vertical, horizontal and 45° angular orientations.

Coordinated motion between three precision actuators and a two-axis head enables high-speed, high-accuracy interpolation for near-infinite spindle/tool orientation, "one stop" fixture/setup efficiencies, internal/external feature machining, and extreme part access.

The patented Tricept design mounts the linear actuators and a central structural tube to a gimbal support structure. At the other end, the tripod struts and tube come together in an inherently stable triangular arrangement around the two-axis rotary head. Independently extending/retracting the struts manipulates the head in X-Y-Z axes, while the head combines 360° horizontal rotation with +5° to -150° vertical plane rotation. The agile structure allows multi-axis moves at speeds not possible with many other machine tools, gives tool access to tight and awkward locations, and enables use of shorter tools allowing higher speeds with reduced vibration.

High-speed, servo-drive for the struts, created exclusively for the Tricept by SKF, enables 88.9 m/min (3,500 in/min) rapid traverse and 2G max acceleration/deceleration. Each strut delivers 990 mm (39 in) stroke, giving machining reach of metric/inch in both X and Y and metric/inch in Z. Unlike the machining cube of conventional machine tools, the Tricept envelope can be envisioned as an upside-down umbrella. The greatest Z reach is at dead center, decreasing as travel moves to outer extremes. The system design delivers ±0.038 mm (0.0015 in) positioning accuracy and ±0.010 mm (0.0004 in) repeatability to meet ever-tighter part tolerances.

The T9000 at IMTS features a 6000 rpm, 50 hp HSK63 spindle. A 15,000 rpm/50 hp spindle is also available. These support the T9000's universal capability, processing the entire range of materials from graphite composite and aluminum to tough alloy steels and titanium. The T9000 is engineered for high rigidity and precision in machining difficult materials. Measured under ISO 9283/1998 Section 10, static stiffness is 35N/micron for Kx, 45N/micron for Ky and 80N/micron for Kz.

Made in Spain by LOXIN, a specialized engineering and technology company, the Tricept
parallel kinematic module can be mounted to a variety of platforms custom tailored to application requirements. The orthogonal platforms provide linear travel to enable processing of long and large parts. However, unlike conventional large machines where spindle motion requires the entire structure to move for all cutting routines, affecting precision and processing speed, a LOXIN machine design can rapid into location, then allow the lower-mass, more agile Tricept system to drive the spindle through cutting routines at higher speeds and acceleration. This can greatly shorten cycle times on parts with many machined details, as well as optimize efficiency of the Tricept in multi-function processing.

The Tricept T9000 is programmed using the standard Cartesian coordinates for conventional five-axis machining - X,Y,Z, A & B. The machine's Siemens Sinumerik 840D control is fitted with proprietary software that automatically converts the Cartesian data to interpolated motion. Programs can be easily created from CAD/CAM part data.

The Tricept T9000 is sold and supported by Hartwig, Inc. (central U.S, and North American importer), Robert E. Morris (Eastern U.S.) and Gosiger (West Coast), all blue-chip machine tool distributor organizations. The Tricept T9000 shows its capabilities at Morris' IMTS booth A-8201, located at the entry to the South building from the new West Building walkway.

For more information, contact Scott Wyatt, Tricept product manager at 316-522-5500, scott.wyatt@hartwiginc.com, or go to www.hartwiginc.com

Tricept parallel kinematic machine system, configured for horizontal machining, performs multi-axis processing at speeds not possible with many other machine tools, gives tool access to tight and awkward locations, and enables use of shorter tools allowing higher speeds with reduced vibration.

Tricept Kinematic Machine Applications

- Flexible Manufacturing Solutions

Automotive

Frames - Machining, drilling and threading of chassis frame for Corvette Z06.

Engine blocks, heads, manifold castings - Milling, contouring, drilling, threading and deburring

Suspension - 20-operation machining of large double-triangulate engine- support/suspension-mount module from large aluminum casting in seven-minute cycle time for Peugeot Citroen. Machining of internal and external sides of rear beam in a single fixturing.

Aerospace

Aircraft wings - Drilling, countersinking, grip length measuring, sealant, fastener installation, fastener shaving and inspection of wing box spars, ribs, stringers and control surfaces in composite, aluminum and titanium for Airbus A380, A340 and A400M.

Pylons - Boring precision holes in aluminum, titanium and stainless steel sandwiched materials for the structural member that mounts engine to wing of Boeing and Airbus aircraft.

Engines - Milling of 9 ft. clamshell halves for Boeing engine nacelles.

Rockets - Milling (include internal), drilling, threading of body sections for Arianne rocket.

Railway

Body panels - Friction stir welding, milling, drilling and threading of extruded aluminum and steel roof, floor and wall sections.

General Industry

Large structures - Milling, contouring, drilling, threading and fixture welding.

Metal composite sandwich - Drilling, countersinking, mastic sealing, measurement, and blind riveting of composite/aluminum/titanium sandwich panels in short cycle time.

Laser Cutting

Waterjet Cutting

Precision Assembly

Castings - De-gating, deburring, rough and finish machining

More from Agricultural & Farming Products