Electrical Sensors / Detectors / Transducers
Paragon Introduces New Wireless Specialty Sensors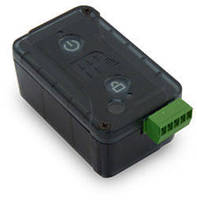 Measuring Voltage, Vibration, Pressure and more!



CHESTERLAND OH — Paragon Robotics introduces an all-new range of wireless sensors for specialty applications. Users can log voltage, acceleration & vibration, pressure, and more. Connecting to a wireless gateway, these new products can also send out remote email or text (SMS) alarms using Paragon's convenient HaloCloud service. At CAS DataLoggers we offer the full range of Paragon products—give our Application Specialists a call at (800) 956-4437 today!



Wireless Sensors for Every Application

SC34: The single-channel Model SC34 Wireless Sensor accepts inputs and provides signal conditioning for low voltages from external sensors and transducers. The unit has fully-upgradeable firmware. Inputs ranging up to 2VDC can be accepted with an accuracy of 0.2% of full range.



Monitor, chart, log and display sensor data from Paragon's DataRecorder software. DataRecorder can be programmed to display the proper measurement units for the inputs corresponding to the external sensors/transducers.



SC70: The SC70 Wireless Accelerometer Sensor can measure acceleration and vibration up to 8g. This sensor is ideal for monitoring rotating asset vibration, for tracking motion of logistic containers, or for product movement around a facility.



SC71: The SC71 Wireless Sensor monitors barometric pressure in a range of 50-110kPa. The unit can be combined with Paragon's temperature and humidity wireless sensor (Model SC12) to provide a complete ambient scope of an area or room of a facility.



SC72: The SC72 Magnemometer Sensor measures magnetic field strength, and can be used to track runtime of motors, to log compass orientation, or be used in combination with a magnet to monitor door positions.



SC100: The model SC100 Wireless Switch/Contact Relay adds local output options to the alarm capabilities of Paragon Robotics wireless data acquisition/logging systems and Model SC sensors. The SC100 provides a 10A/250V contact relay/ switch which is used in conjunction with Paragon's HaloCloud service alarm capabilities (text/email notification or contact relay output options). Individual sensor alarms can be programmed to use the Model SC100 wireless relay to trigger a local alarm notification (light/beacon/buzzer/horn). The SC100 can also automate processes by adding control capabilities within the sensor network by turning system parameters on/off which directly provide feedback to measurements.



Paragon Wireless Gateways and Super-Gateways:

The new sensors connect to a Paragon Wireless Gateway which transmits orders and receives info from your data loggers. For flexible communications, users can also opt for Paragon's new Super-Gateways featuring Modbus, WiFi and Cellular communication. Their unprecedented battery life of 7-10 years makes it easy for users to record without ever changing a battery! All Gateways include free software for setup, datalogging and modeling.



Remote Monitoring Capability

Remote email or text (SMS) alarms can also be enabled with Paragon's optional HaloCloud service. Instantly view both live and recorded sensor data onsite or remotely from anywhere in the world! Multiple sites can easily be integrated into one interface. Data can be seamlessly fed into 3rd-party software systems, making it ideal for energy analytics, environmental monitoring and industrial automation.



For further information on Paragon Robotics products, or to find the ideal solution for your application-specific needs, contact a CAS Data Logger Applications Specialist at (800) 956-4437 or visit our website at www.DataLoggerInc.com. 

More from Communication Systems & Equipment