PAR38 Style LED Light offers multiple operating modes.
Press Release Summary: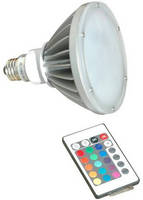 Compatible with PAR38 style light fixtures, LED18W-PAR38-RGB provides various control and operating options. This 8 W RGB LED PAR 38 light, able to produce flashing, dimming, and strobing effects, can be controlled via handheld remote from up to 25 ft away. Functions include on/off control, choice of 16 different light colors, and ability to produce constant on state, fast or slow flash, strobing effects, color fade, and dimming. Light produces 950 lm in white color mode using 18 W.
---
Original Press Release:

Larson Electronics Releases PAR38 Style LED Light with Multiple Operating Modes



Larson Electronics has announced the release of a multi-mode capable LED light with remote control that is compatible with standard PAR38 style light fixtures. The LED18W-PAR38-RGB 18 Watt RGB LED PAR 38 Remote Control Light provides innovative control and operating options with remote control operation and multi-color output choices as well as the ability to produce flashing, dimming, and strobing effects.



The Larson Electronics LED18W-PAR38-RGB 18 watt RGB LED PAR 38 remote control light is an innovative addition to their extensive line of LED offerings that gives operators a wide range of operating choices as well as the ability to control the operation of the unit via a handheld remote control. This LED lamp features a PAR38 design which allows it to work with most standard light sockets, allowing users to simply unscrew and replace common outdoor floodlights and interior bulbs. Operating features include a handheld remote control which allows the user to control all the functions and modes from up to 25 feet away, making this LED light ideal for installation in hard to reach areas. Functions include on/off control, the choice of 16 different light colors, and the ability to produce a constant on state, a fast or slow flash, strobing effects, color fade, and dimming. This light is far more versatile and durable than traditional halogen floodlights and produces 950 lumens in white color mode while using only 18 watts of power. For comparison, a typical halogen floodlight will produce only 850 lumens while using 50 watts of power. Additionally, since this unit is LED, it is highly resistant to damage from vibration or impacts, produces whiter cleaner light output without any yellow or reddish tint in white mode, and will operate for 50,000 or more hours before requiring replacement compared to the 500-1000 hour average of an incandescent or halogen bulb. These PAR38 LED lights are ideal for specialty applications and well suited for landscape or signage illumination where operators prefer to be able to alter color and on/off operation to achieve unique effects. These units are also well suited to commercial and industrial use where an operator requires specific light colors for specialized tasks and provides the ability to switch to normal illumination whenever desired.



"The LED18W-PAR38-RGB multi-color LED PAR bulb offers landscapers, hotels and restaurants the ability to define a level of color ambience suited to their clientele," said Rob Bresnahan with LarsonElectronics.com. "With this in mind, we made this LED par bulb weatherproof, so that in can be used for indoor and outdoor applications."



Larson Electronics offers a wide selection of LED work lights, LED light towers, explosion proof LED lights, intrinsically safe LEDs and LED work lights. The entire Larson Electronics line of industrial grade lighting equipment can be viewed by visiting them on the web at Larsonelectronics.com. You can also call 1-800-369-6671 to learn more about all of Larson Electronics lighting products or call 1-214-616-6180 for international inquires.

More from Software