PAR20 LED Bulb suits indoor lighting applications.
Press Release Summary: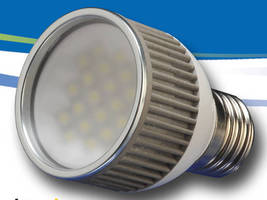 Environmentally friendly EnergyLED PAR20 LED bulb uses just 4.6 W to generate up to 300 lumens of light. UL approved unit is available in 2 white color temperatures (2,800 and 6,000 K cool white), has 50º beam angle, and E26 base. Engineered to last 50,000 hr, it generates very little heat and emits no UV rays, making it suited for museum and retail industry. Lead free and mercury free product can also be used in store fronts and point of purchase displays.
---
Original Press Release:

Marktech LED Lighting Introduces New and Improved PAR20 LED Bulb for Indoor Lighting Applications



Latham, NY - Marktech LED Lighting's newest EnergyLED PAR20 LED bulb uses just 4.6 watts to generate up to 300 lumens of light. This is a 50% improvement in lumen output compared to the previous generation. With a 50º beam angle and E26 base, this UL approved family of LED bulbs is currently available in two white color temperatures, 2800k and 6000k cool white. Other colors are available through our online store at www.marktechledlighting.com.

The PAR20 LED bulbs are engineered to last 50,000 hours. This extremely long life will virtually eliminate maintenance costs, and will help you see a return on your investment as LED Bulbs typically offer a payback period of less than 2 years. EnergyLED light bulbs are also environmentally responsible as they consume less energy than standard bulbs and disposal is also not a concern because the bulbs are lead free and contain no mercury. These lights generate very little heat and emit no UV rays which make them an ideal choice for the museum and retail industry. In applications where vibration is a factor in the life of a light bulb, LED lights are the perfect solid state choice. These lights are also perfect for store fronts and point of purchase displays which are typically illuminated for long hours.

Pricing for the Marktech PAR20 bulbs is $32 each, and can be purchased directly though our web store at www.MarktechLEDLighting.com. Marktech also offers LED replacements for T5, T8 and T9 type lighting. For additional information on any of our LED Lighting products contact Marktech LED Lighting at 3 Northway Lane North, Latham, NY 12110, Phone: (800) 984-5337, FAX: (518) 785-4725, email: info@marktechLEDlighting.com. Website: www.marktechLEDlighting.com

About Marktech LED Lighting Products

With over 25 years of LED industry experience, Marktech LED Lighting is pleased to offer the next generation of energy-efficient lighting for home, office or business use. Marktech specializes in providing solutions for challenging lighting designs by offering the best possible selection of high quality, high-brightness LED lighting products at the best possible prices. We offer a variety of LED lighting products and fixtures that can directly replace existing incandescent, fluorescent and halogen bulbs in household and commercial lighting. In this way we hope to encourage widespread use of LEDs to save energy, save money, and provide better lighting solutions for a greener tomorrow.

For additional information on our complete line of LED Lighting products contact
Marktech LED Lighting
at 3 Northway Lane North,
Latham, NY 12110.
Phone: 800.984.5337,
FAX: 518.785.4725,
email: info@marktechledlighting.com.
Website: www.marktechledlighting.com.

Carrah Daley

Marketing Manager

Marktech Optoelectronics

3 Northway Lane North

Latham, New York 12110

Phone: 518.956.2980

Fax: 518.785.4725

www.marktechopto.com

www.marktechLEDlighting.com

c.daley@marktechopto.com

More from Electrical Equipment & Systems