Paperless Chart Recorders offer real-time monitoring.
Press Release Summary: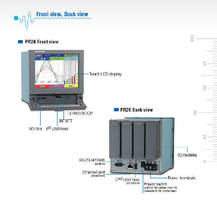 Designed for measuring voltage, current, thermocouples, or RTDs from remote locations, Brainchild PR Series is suitable for laboratories, hospitals, and factories. Model PR-10 features 4.3 in. touchscreen display and 6 channels, while Model PR-20 has 5.6 in. touchscreen and 6 channels. Equipped with 12.1 in. touchscreen, Model PR-30 provides up to 48 input channels. Recorders offer scan rate within 100 msec for all analog channels and can store data on internal Flash memory.
---
Original Press Release:
Brainchild Introduces New Paperless Chart Recorder Series
Real-Time Monitoring for Labs, Hospitals and Factories

CHESTERLAND OH – CAS DataLoggers and Brainchild introduce the all-new PR Series of Brainchild Paperless Chart Recorders for real-time process display and monitoring several critical values from remote locations. These portable data loggers are ideal for use in monitoring experiments in laboratories, for temperature monitoring in hospitals and clinics, and for process monitoring in factories. The built-in high-resolution display allows users to get a clear review of their data using flexible screen configuration and multiple display formats. CAS DataLoggers offers these compact chart recorders at cost-effective prices. Go paperless with Brainchild today!

No more hunting through hard copy records for your data! Paperless chart recorders put everything you need onscreen and saved to internal Flash memory storage. Brainchild's portable solutions feature 6 to 48 inputs for measuring voltage, current, thermocouples or RTDs, providing useful information: for example in lab experiments such as heating liquids at different volumes. These paperless recorders also offer 6 user-configurable plug and play I/O card slots. Choose from three different models:
• The Brainchild PR-10 is a low-cost paperless chart recorder with a built-in high-resolution 4.3" touchscreen display and 6 channels
• The Brainchild PR-20 is a low-cost paperless chart recorder with a built-in high-resolution 5.6" touchscreen display and 6 channels
• The Brainchild PR-30 is an advanced paperless chart recorder with a built-in high-resolution 12.1" touchscreen display and up to 48 channels

Brainchild dataloggers support a fast scan rate within 100msec for all analog channels at high accuracy and also boast several mathematical and programmable capabilities including statistics with instant, average, and min/max values. Users can store historical data on a remote host PC for data evaluation and printout, on Flash ROM, or Compact Flash Card. Users can access onsite data either onscreen, from a remote location via RS-232/RS-485/RS-422 serial interfaces, or via Ethernet networking.

Free Configuration & Display Software
Every Brainchild paperless recorder includes standard configuration software featuring a convenient historical viewer. Configuration can be done on a PC and later sent to the recorder which displays historical trends, alarms, and events. This data can be printed out or exported to a CSV file. Data can also be searched by time, time period, tag, alarm, events and remarks.

Optional Data Acquisition Studio Software
Data Acquisition Studio software is available for purchase and allows you to view your data in real-time.

Optional Panel Studio Software
The Panel Studio software allows you to edit a custom display.

I/O Modules for Easy Expansion
Brainchild recorders also feature a wide selection of digital I/O cards to customize your application:
AI206 = 6 Analog Inputs
AI203 = 3 Analog Inputs
RO206 = 6 Relay Outputs
DI206 = 6 Digital Inputs
RD233 = 3 Relays & 3 Digital Inputs
AO206 = 6 Analog Outputs

Plus Version of Firmware
In addition to the standard firmware, the optional Plus version offers more features such as mathematic functions, external channels, custom display, batch, and FDA21 CFR part 11 support.

Reliable Process Monitoring
Brent Irwin, Technical Support Manager at CAS DataLoggers, comments, "Brainchild products have rock-solid operation. Their remote monitoring capability saves all that time spent traveling back and forth to get data from traditional paper chart recorders."

For further information on the new Brainchild Paperless Chart Recorders for your process monitoring, research project or classroom, or to find the ideal solution for your application-specific needs, contact a CAS Data Logger Applications Specialist at (800) 956-4437 or visit the website at www.DataLoggerInc.com.



Contact Information:
CAS DataLoggers, Inc.
12628 Chillicothe Road
Chesterland, Ohio 44026
(440) 729-2570
(800) 956-4437
sales@dataloggerinc