Paper RFID Tag targets retail item applications.
Press Release Summary: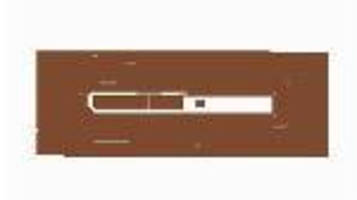 Model GAO113005, 13.56 MHz High Frequency (HF) ICODE EPC Paper RFID Tag provides maximum read quantity of 30 labels/sec and read range of up to 10 cm. Card is waterproof, dustproof, and resistant to immersion in salt water, alcohol, oil, 10% HCl, and ammonia. At 25 x 20 mm and 0.5 g, it offers capacity of 96 bit EPC and is manufactured with opaque matt paper 79. It operates in temperatures from -25º to +70ºC, with storage tolerance of -40º to +85ºC.
---
Original Press Release:

GAO Offers 13.56 MHz High Frequency (HF) ICODE EPC Paper RFID Tag



Toronto, Canada - GAO RFID Inc. (www.GAORFID.com) recommends its 13.56 MHz High Frequency (HF) ICODE EPC Paper RFID Tag (GAO113005), which is used for retail item level applications. The tag is also deployed in electronic label applications and electronic article surveillance systems.

This 13.56 MHz High Frequency (HF) ICODE EPC Paper RFID Tag provides a maximum read quantity of 30labels/s and a tested read range of up to 10cm. This card is waterproof, dustproof and resistant to immersion in salt water, alcohol, oil, 10%HCl and ammonia, so it can withstand harsh environments.

Specifications for GAO's 13.56 MHz High Frequency (HF) ICODE EPC Paper RFID Tag:

1. Type: Contactless read/write

2. Capacity: 96 bit EPC

3. Coding Type: IC dependant

4. Multi-Detection: Yes

5. Material: Opaque matt paper 79

6. Compliance: ICODE, SLI

7. Regulator Specification: ISO15693

8. Size: 25mm - 20mm

9. Weight: 0.5g

10. Operating Temperature: -25º to 70ºC

11. Storage Temperature: -40º to 85ºC

For more information about GAO's 13.56MHz High Frequency (HF) ICODE EPC Paper RFID Tag, please visit www.GAORFID.com or contact Sales@GAORFID.com About GAO RFID Inc.

GAO RFID Inc. is a leading provider of Radio Frequency Identification (RFID) hardware and solutions to end users worldwide. GAO RFID combines best of breed with low cost RFID readers, RFID tags and enabling-RFID software. We have a wide variety of RFID readers, tags and antennas in all the RFID technologies, Low Frequency (LF), High Frequency (HF), Ultra High Frequency (UHF, Gen 2) as well as Active and Semi-Passive. GAO RFID's products and services are easily customized for use in Asset Tracking, Health care, Supply Chain & Logistics, Event Management, Access Control, Livestock Tracking, Inventory Control & Management, Field Service, Maintenance and Document Authentication.

For more information please visit www.GAORFID.com For any media queries:

Director of Marketing,

416-292-0038 ext 238

marketing@GAORFID.com

GAO RFID Inc. is a member of GAO Group, which also includes:

GAO RFID Inc.: www.GAORFID.com

GAO Tek Inc.: www.GAOTek.com

GAO Research Inc.: www.GAOResearch.com

WowGao Inc.: www.WowGao.com

GAO RFID Asset Tracking Inc.: www.GAORFIDAssetTracking.com

GAO Embedded Inc.: www.GAOEmbedded.com

GAO Instruments Inc.: www.GAOInstruments.com

GAO Comm Inc.: www.GAOComm.com

GAO Fiber Optics Inc.: www.GAOFiberOptics.com

Related