Panel PCs use projected capacitive touch technology.
Press Release Summary: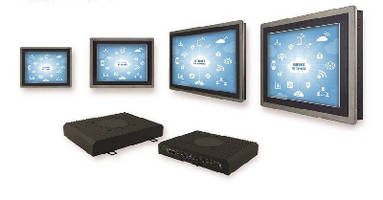 Available in 15.6, 18.5, and 21.5 in. sizes, Widescreen Panel PCs feature NEMA 4X/IP66 compliant stainless steel front bezels with corrosion and chemical resistant surface for harsh industrial environments. Premium and Standard Smart HMIs are powered by Intel® Core™ i7 and Atom™ processors, respectively. Supporting gesture and multi-touch operation with up to 5 fingers simultaneously, projected capacitive touch technology allows designers to eliminate need for keyboard and mouse.
---
Original Press Release:

AIS Widescreen Panel PCs Offer Projected Capacitive Touch Technology for Gesture and Multi Finger Operation in Harsh Industrial and Commercial Environments



AIS 15.6", 18.5", and 21.5" Multi-touch HMI Panels with NEMA 4X/IP66-compliant Stainless Steel Front Bezels for Used in Food & Beverage, Chemical & Pharmaceutical & Water & Wastewater Industry



IRVINE, CALIFORNIA – American Industrial Systems, Inc. (AIS) an innovator and the leader of Industrial HMIs, Touch Panel Computers, Industrial PCs (IPCs), Industrial Box PCs, Industrial DIN-Rail PCs, and Industrial Thin Clients, offers a family of widescreen Panel PCs with Projected Capacitive Touch Technology and NEMA 4X/IP66 compliant stainless steel front bezels for an extensive range of harsh and challenging industrial industries and environments. AIS's portfolio of Smart HMIs include the Premium and Standard series of smart widescreen touch panel PCs. Powered by Intel® Core™ i7 and Atom™ processors respectively, the Premium and Standard series touch panels are available in wide screen formats including 15.6 inch, 18.5 inch and 21.5 inch sized display panels. The new Premium and Standard series widescreen touch panels from AIS are also rugged industrial displays and Panel PCs with projected capacitive touch technology (PCT) for gesture and multi-finger operation with up to five fingers at the same time. AIS's PCT multi-touch technology displays let operators and users move picture contents intuitively and fast, zoom in or supplement by hidden components.



AIS's Widescreen Touch Panel HMIs with PCT Technology Offer Fast Response, Industrial-Grade Reliability and Performance, Combined with a Stylish and Sleek Design

Projected Capacitive Technology (PCT) is one of the most prevalent touch technologies for an expanding variety of applications ranging from consumer devices to commercial applications in retail, gaming, signage and industrial industries and markets. Driven by the increasing number of users of touch-enabled mobile devices, consumer and professional expectations, touch applications have moved far beyond single-touch requirements into the realm of AIS's intelligent family of Premium and Standard widescreen touch panels with multi-touch and multi-user capabilities. PCT technology incorporated in AIS's HMIs offer users many advantages including:

• A pristine optical clarity, high touch durability and long term stability over temperature

• An optional coatings anti-glare front glass, a corrosion and chemical resistant surface

• Allows designers to eliminate the need for a keyboard and mouse or other pointing device

• Open PC-based can be used for custom solutions based on Microsoft Windows 7 and 8

• Gesture for industrial based HMI applications (smart zoom, scroll, pan, double tap, drag, long press, pinch, flick, press & drag, press, rotate, two finger tag, two finger scroll, press & tag)



Featuring NEMA 4X/IP66-Comp Stainless Steel Front Bezels with a Corrosion and Chemical Resistant Surface, AIS's Widescreen Touch Panel PCs are Suitable for Clean-in-Place (CIP) Applications

Clean-in-place (CIP) is a method of cleaning the interior surfaces of pipes, vessels, process equipment, filters and associated fittings, without disassembly. CIP is needed in frequent internal cleaning of processes. Industries that rely heavily on CIP are those requiring high levels of hygiene, and include: dairy, beverage, brewing, processed foods, pharmaceutical, and cosmetics. The benefit of using AIS's NEMA 4X/I66 Premium and Standard series widescreen touch panels for industries that use CIP is faster cleaning, less labor-intensive and more repeatable, and poses less of a chemical exposure risk to people.  In addition, AIS's smart, rugged PC-based HMIs can withstand harsh industrial environments and improves system reliability, uptime and longevity of process automation equipment and systems.



AIS's Premiums & Standard Widescreen PC Displays Make Visualizing Processes Easier with More Panel Real-estate; and Enabling More Efficient Multi-tasking for Operators and Users

The increased use of the PC as a multimedia device in the consumer area has ultimately resulted in the replacement of 4:3 displays with a widescreen format and more common use in industrial and commercial sectors as well. AIS's Premium and Standard touchscreens are equipped with high performance processing power and speed with 64-bit operating systems, high reliability touch screens, and long lasting industrial widescreen displays. AIS's widescreen HMI display technology offers many advantages to operators and users including:

• The ability for multiple programs to be displayed on the screen at once eliminates the need to toggle between applications and helps increase productivity

• Displays of large application menus can be viewed at the same time, eliminating the need to minimize the illustration size to fit menus on an artboard

• Views of imagery appear correctly & eliminate black bars at the top & bottom of the screen

• Extra real estate on the left and right sides of the screen provides wider views of programs

• Making programs and menus reviews much more convenient and enabling more efficient multi-tasking



About AIS

Headquartered in Irvine, California, USA, American Industrial Systems, Inc. (AIS) offers in-house electronic and mechanical design, software development, manufacturing, production and quality control services. Offering one of the widest ranges of industrial computing solutions, AIS open platform control and monitoring solutions are available in a multitude of configurations for industrial, building automation, food & beverage, oil & gas, military and marine applications. The company's HMI solutions are key enabling technologies for the Internet of Things (IoT), Industrial Internet of Things, (IIoT), Machine-to-Machine Communications (M2M) and Industry 4.0 applications. AIS is fully committed to empowering, improving and delivering turnkey HMI, control, monitoring and display solutions for OEM, ODM and end-user customers. AIS is an ISO 9001:2008 certified supplier and manufacturer of rugged computers and displays, and received completion of the International Traffic in Arms Regulations (ITAR) registration from the Directorate of Defense Trade Controls (DDTC). For more information, visit: www.aispro.com, email: sales@aispro.com or contact: 1-888-485-6688.



Media Relations Contact:

American Industrial Systems, Inc.

David G. Martorana

Director Marketing & Communications

1.847.630.6487 

dynmarent@gmail.com

More from Software