Panel PCs suit industrial automation applications.
Press Release Summary: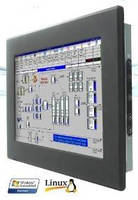 With mechanical and system platforms mixed and matched to application requirements, panel PCs are available in fanless ULV designs with Intel® Pentium® or Celeron® M processor or high-performance versions with Intel Core(TM) 2 Duo processor. HMI touchscreens from 6.4-20.1 in. are available, as are IP65/NEMA 4X PCs, which come surrounded in waterproof and dustproof anti-corrosive stainless steel enclosure with protective glass. Systems are designed for 24 hr continuous operation.
---
Original Press Release:

AIS Announces a Rugged Industrial Panel PC and Touch Panel Computer for Industrial Automation



IRVINE, CA -- American Industrial Systems Inc. (AIS) today unveiled a new range of Panel PCs for the industrial market. The new products will be available through Avnet Technology Solutions, a group within Avnet, Inc., one of the world's largest technology distributors. AIS' comprehensive range of Panel PCs come in several mounting designs including IP65/NEMA 4X chassis, panel mount, open frame, or custom designs to fit into a wide range of applications including control cabinets, consoles, machine HMI (Human Machine Interface), assembly line automation and monitoring. Typical industry uses would be in the chemical, food and beverage, glass, mining, oil and gas, pharmaceutical, production machines, pulp and paper, and semiconductor industries.

Available in fanless ULV (Ultra Low Voltage) designs to high power Intel® Core(TM) 2 Duo processors to suit your requirements, AIS solutions provide the flexibility to mix and match mechanical and system platforms, creating a competitive advantage in design and performance. The HMI touchscreens are also available, adding interactivity to magnify utility and effectiveness of the display. Currently the Panel PCs are available in sizes 6.4 inches to 20.1 inches.

AIS' IP65/NEMA 4X Panel PCs are surrounded in a waterproof and dustproof anti-corrosive stainless steel enclosure with protective glass. The PCs utilize specially designed weatherproof I/O connectors to provide complete 360 degree protection. The stainless steel chassis can be cleaned with chemicals and can be utilized in situations where sanitation is of high priority. AIS' Panel PCs are engineered for long-lasting product life cycle and high reliability to serve the industrial market demands.

Features and Benefits:
o Compact and Rugged Embedded Technology
o Offers Stainless Steel or Aluminum Bezels
o Designed for 24 Hour Continuous Operation
o Ambient Operating Temperature: 0 °C to 45 °C
o Energy-Saving Intel® Pentium® or Celeron® M Processor
o Performance Intel® Core(TM) 2 Duo Processor
o USB 2.0, RS232/485, and Ethernet
o Support Windows XP Professional, Embedded or Linux
o Shock: 15G, 11ms Duration for Industrial Operation
o Vibration: 5 Hz ~ 500 Hz/ 1 Grms/ 3 Axis for Industrial Operation
oIP65 (NEMA 4X) Weatherproof Stainless Steel Enclosure with Corrosion Protection, Including I/O Connectors
o HMI Touchscreen Ready Platform
o High Resolution, High Brightness, and Contrast
o Wide-Range Temperature Displays
o Long-Life Backlights, High Shock and Vibration
o Multiple Mounting Options (Panel Mount, Rear and Arm Mounts)
o Enclosure Test Std: IEC60529 Ed: 2.1 2001-02

"AIS offers highly integrated Ruggedized Panel PCs and Touch Panel Computers, constructed in stainless steel chassis with a NEMA 4/IP65 rating that is specifically designed for harsh, industrial environments. Our solution delivers 'bottom-line savings' with our 'off-the-shelf' NEMA 4/IP65 panel PCs by lowering our customers' production costs and reducing expensive revisions late in the development cycle," said Nelson Tsay, president of AIS. "Avnet is our key partner in North America. Avnet provides us with an extensive sales and marketing organization to reach a broad base of embedded and original equipment manufacturing customers. We believe our unique, ruggedized solutions will assist Avnet customers in optimizing their product offerings, reducing unnecessary costs and effectively speeding up their time-to-market. Our primary objective is to provide Avnet customers with a competitive advantage, fully committing our company to the goals and continuous improvement of our product quality, reliability, cost competitiveness and customer satisfaction."

About American Industrial Systems Inc.
AIS is a leading global designer and manufacturer of specialty industrial automation, industrial displays, panel pc, and digital signage solutions for customers in the industrial, commercial, public service, and medical markets. AIS specialize in designing and manufacturing cost-effective LCD and embedded computing products for the industrial market, as well as ODM/OEM applications worldwide. Whether your vision involves off-the-shelf displays or highly customized embedded computing solutions, AIS can supply the experience, technology, and resources you need to build it right and get you to market first. For additional information on AIS products and services, please call AIS toll-free at (888) 485-6688 or visit: www.aispro.com.

About Avnet Technology Solutions
Avnet Technology Solutions is an operating group of Phoenix-based Avnet, Inc. As a global technology sales and marketing organization, Avnet Technology Solutions has sales divisions focused on specific customer segments and a select line card strategy enabling an exceptional level of attention to the needs of its customers and suppliers. The group's Web site is www.ats.avnet.com. Contact Avnet Technology Solutions at 1-877-ASK-AVNET (1-877-275-2863) or EmbeddedInfo@Avnet.com.

More from Machinery & Machining Tools