Panel PCs integrate PoE Powered Device technology.
Press Release Summary: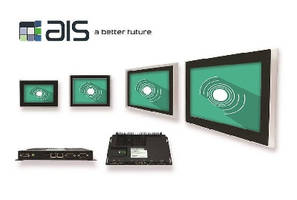 Supplied in rugged, aluminum die-cast housing, Compact Series HMI Touch Panels come in single or multi-touch models ranging from 7–21.5 in. Combined with 3rd party SCADA control software, units offer advanced management, security, data logging, and web serving to facilitate network deployment. Modular PCs, powered by Celeron® N2930 processors, provide expanded connectivity with built-in Ethernet and CFlash card for storage. Applications range from factory floor to extreme remote plant locations.
---
Original Press Release:

AIS's Panel PC are Fully Integrated with PoE PD and Provide Flexibility, Scalability, and Cost Savings HMIs for Faster Deployment of Industrial Automation and Control Systems



AIS's Compact Panel PC Uses a Modular Architecture That Can Be Readily Expanded with IEEE 802.3af Power over Ethernet (PoE) Powered Device (PD) for Easy Installation of HMI Systems



IRVINE, CALIFORNIA – American Industrial Systems, Inc. (AIS) the leader of open architecture, Industrial PCs (IPCs), Industrial HMI Panels, Touch Panel Computers, Industrial Box PCs, Industrial DIN-Rail PCs, and Industrial Thin Clients, has developed a new Compact series of Touch Panel HMIs utilizing "Power over Ethernet" (POE) "Powered Devices" technology. PoE technology lets network cables carry both electrical power and data connection along a single cable. The Compact Series HMI Touch Panels from AIS combines a compact footprint, rugged, aluminum die-cast housing and its popular open platform design to deliver a new, powerful HMI solution and option for industrial applications. 



The system offers fast and easy deployment for HMI industrial automation and control systems and is more than powerful enough to meet a variety of industrial networking requirements, including wide environmental specifications, network monitoring and PoE capabilities. From factories to extreme remote locations, AIS Compact HMI solutions enable customers to easily connect, monitor and control processes across a diverse range of industries that include manufacturing, oil and gas and water/wastewater.



AIS's Compact HMIs are Future Proof and are Ideal for Gigabit Ethernet Applications that Range from the Factory Floor to Extreme Remote Plant Locations

With models ranging from 7" to 21.5" in single or multi-touch models, AIS's Compact line of Touch Panel PCs with PoE capabilities are designed for industrial manufacturers, OEM machine builders and system integrators. AIS's rugged Panel PCs are ideal for alternative energy, water/wastewater, transportation and intelligent traffic applications. Combined with 3rd party SCADA control software, the Compact Series of HMIs offer advanced management, security, data-logging and web-serving to facilitate network deployment with quick and easy access to data. They also offer expanded connectivity with built-in Ethernet and a Compact Flash card for storage. This allows for easy backup and restoring of systems to provide reliable plug-and-play solutions for critical monitoring and communication applications.



Specifically Designed for Intelligent Machinery, Web-Based and Industrial HMI Control & Monitoring Applications Requiring "PoE PD"

The Compact Series of HMI Touch Panels Series from AIS are powered with Celeron® N2930 processors.  Intel® boasts significant improvements from previous generations with improved integration, performance and power utilization. The Celeron processor is a high powered, energy efficient chip that will work in a wide range of thermal conditions, making it a highly desirable choice for industrial control and monitoring applications. This is just another component that makes AIS's Compact Panel PCs a more desirable HMI solution for its enhanced performance, price and capabilities.



PoE Offers Several Cost Saving Advantages for Installation of AIS's Compact HMI Systems

PoE provides both data and power connections in one cable to AIS's Compact Panel PCs. There are many other advantages to installing HMI systems with PoE capabilities

• Time and cost savings – Reduces time and expenses of having electrical power cabling installed.

• Flexibility – Since it does not required to be tethered to an electrical outlet, devices and wireless access points can be located wherever they are needed most and repositioned easily.

• Safety – POE delivery is intelligent and designed to protect network equipment from overload, under-powering or incorrect installation.

• Reliability – POE power comes from a central and universally compatible source rather than a collection of distributed wall adapters. It can backed-up by an uninterruptible power supply or controlled to easily disable or reset devices.

• Scalability – Having power available on the network means that installation and distribution of network connections is simple and effective.



About AIS

Headquartered in Irvine, California, USA, American Industrial Systems, Inc. (AIS) offers in-house electronic and mechanical design, software development, manufacturing, production and quality control services. Offering one of the widest ranges of industrial computing solutions, AIS open platform control and monitoring solutions are available in a multitude of configurations for industrial, building automation, oil & gas, military and marine applications. The company's HMI solutions are key enabling technologies for the Internet of Things (IoT), Industrial Internet of Things, (IIoT), Machine-to-Machine Communications (M2M) and Industry 4.0 applications. AIS is fully committed to empowering, improving and delivering turnkey HMI, control, monitoring and display solutions for OEM, ODM and end-user customers. AIS is an ISO 9001:2008 certified supplier and manufacturer of rugged computers and displays, and received completion of the International Traffic in Arms Regulations (ITAR) registration from the Directorate of Defense Trade Controls (DDTC). For more information, visit: www.aispro.com, email: sales@aispro.com or contact: 1-888-485-6688.



Media Relations Contact:

American Industrial Systems, Inc.

David G. Martorana

Director Marketing & Communications

1.847.630.6487 or dynmarent@gmail.com

More from Sensors, Monitors & Transducers