Industrial / Specific Purpose Computers
Panel PC suits industrial automation applications.
Press Release Summary: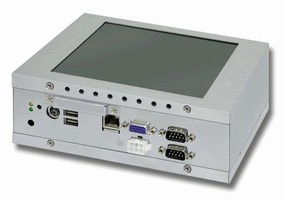 ReadyPanel(TM) 6.5 Industrial Panel PC includes EPIC form factor Pentium® compatible SBC, 6.5 in. color flat panel display, and 4-wire resistive touch screen integrated into compact enclosure. Application-ready Windows® CE 5.0 appliance for HMI environments can be configured with up to 1 Gb DRAM memory and Compact Flash options up to 2 Gb. It provides connectors for access to USB ports, Ethernet port, dual serial ports, CRT video, PS/2 keyboard, mouse port, and audio.
---
Original Press Release:
Ampro Announces World's First EPIC Panel Computer
Ampro's ReadyPanel(TM) fits Celeron® to Core(TM) Duo computing in EPIC Panel PC SAN JOSE, CA, April 4, 2006.-Ampro Computers, Inc., a leading supplier of standards-based embedded computers and single board computers, today announced the introduction of the ReadyPanel(TM) Industrial Panel PC enabling customers and OEMs to rapidly deploy industrial automation, human-machine interface (HMI), and operator control panels. The new ReadyPanel is designed as a Panel PC solution that includes a standard EPIC form factor Pentium® compatible SBC, a 6.5" color flat panel display and touch screen integrated into a compact enclosure. ReadyPanel offers scalability to meet specific demands with the capability to integrate a variety of EPIC compatible single board computers (SBCs). The ReadyPanel is the first in a series of panel solutions from Ampro designed around EPIC SBCs allowing easy access to the latest technology in processors and chipsets. "Ampro's new ReadyPanel is a complete solution with LCD that operates stand-alone or integrates easily into larger systems," said Joanne Mumola Williams, president and CEO of Ampro. "Ampro brings its strong reputation for quality, local support, configuration control, lifecycle, and industry standards to provide a superior overall Panel PC offering. Ampro has already secured ReadyPanel design wins in markets where Ampro's strengths are valued, including medical, industrial, and office automation". Ampro's ReadyPanel 6.5 panel computer is an application-ready Windows® CE 5.0 appliance for HMI environments. ReadyPanel offers a selection of Ampro ReadyBoard(TM) SBCs with Intel® processors from 400 MHz Celeron® to Core(TM) Duo, bringing scalability, high computing performance with low power consumption and all electronics in a compact Panel computer. Featuring a 6.5 inch Color TFT display with integrated 4-wire resistive touch screen the ReadyPanel 6.5 is an ideal combination of PC and industrial-grade construction for industrial automation and control applications. ReadyPanel includes a robust set of I/O and can be configured with memory sizes up to 1GB DRAM and Compact Flash options up to 2GB. ReadyPanel includes Windows CE 5.0 on Compact Flash with other operating systems available later in Q2 2006. ReadyPanel all-in-one solution provides PC-style connectors for easy access to USB ports, Ethernet port (RJ45), dual serial ports (DB9), CRT video (when required), PS/2 keyboard and mouse port, and audio. External access to the CompactFlash® slot is through a convenient EMI-protected cover. Additional I/O ports can be included for rapid customization. The operating environment for ReadyPanel All-in-one solution is 0-45°C and it is DC-powered, using 5V and 12V DC inputs. Pricing and Availability ReadyPanel 6.5 with 400MHz Celeron is available now complete with Windows CE 5.0 installed, 64MB CompactFlash®, and 128MB system memory and priced at under $1200 in moderate volumes. About Ampro Computers, Inc. Ampro Computers, Inc. is the leading global provider of modular embedded computing solutions for OEM applications. Ampro's mission is to provide time saving solutions for embedded systems designers that accelerate the product deployment process. Ampro pioneered the embedded PC industry creating the popular PC/104 and EBX standards, and recently co-invented the new EPIC standard and the new Epic Express standard. Ampro offers the ReadyPanel Computer as a complete turnkey industry computer solution, the ETX Computer-on-Module, PC/104-compatible CoreModule CPUs and MiniModule expansion products, EBX form factor LittleBoard single-board computers (SBCs), EPIC form factor ReadyBoard SBCs, and Mini-ITX form factor MightyBoard SBCs.. For more information about Ampro Computers, please visit www.ampro.com. Contact Name: Victoria Kostka E-mail: vkostka@ampro.com
More from Chemicals & Gases