Panel Mount Keylock Switches serve high-security applications.
Press Release Summary: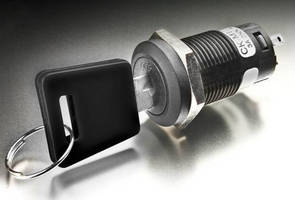 Along with 5-tumbler locking mechanism, CKM Series features sliding silver contacts and vertically rotating self-cleaning switching mechanism. Switches are standard size with 16 mm double flatted bushings that sit securely in panel. Contact section is sealed away from key section to protect contacts, and keys come in flat or tubular styles. Rated 3 A @ 250 Vac, switches have SPDT circuit configuration with choice of 2 or 3 key positions. Circuit options are On-On or On-Off-On.
---
Original Press Release:

NKK Switches Announces Two and Three Position Panel Mount Keylock Switches for High Security Applications



Ultra-secure CKM Series switches also boast ultra-high reliability

SCOTTSDALE, Ariz. - NKK Switches, the world's leading designer and manufacturer of innovative electromechanical switches, today announced the CKM Series of high security keylock switches for panel mount applications. Built for high security applications that require sophisticated design and reliability, the CKM series delivers the quality and dependability needed in such environments.

Featuring a highly secure five tumbler locking mechanism, CKM Series 16mm keylock switches are ideal for applications ranging from control and automation environments to computers and communication equipment to military and medical devices.

The high reliability of the CKM Series is due to sliding, silver contacts and a vertically rotating self-cleaning switching mechanism. These features ensure long operating life, smooth operation and highly reliable circuit contact.

CKM Series devices are standard size with 16mm double flatted bushings that sit securely in the panel. The interior construction has two sections, with the contact section sealed away from the key section to protect the contacts.

Keys are available in flat or tubular styles, with flat keys being reversible for easier setting. Keys are supplied with randomly assigned numbers. One key is provided with each switch and since there is no master, security is even further enhanced. Additional keys can be ordered by specifying the key number engraved on the switch.

Rated at 3A@250V AC, the CKM Series has the highest electrical rating of any NKK keylock device. They also have a high dielectric strength of 1,500 volts between contacts and case, which is guaranteed. These keylock switches are constructed of fiberglass reinforced PBT insulation material and can withstand 15 kilovolts of electrostatic discharge, designating them as antistatic devices.

The circuit configuration is SPDT with a choice of two or three key positions. Two position models feature a 90 degree angle of throw and three position models have a 45 degree angle of throw. Circuit options are ON-ON or ON-OFF-ON.

Engineers can also configure CKM Series with keys removable in one or two positions depending on circuit selection. ON-OFF-ON models with tubular keys also feature push-and-lock mechanisms.

Solder lug terminals are epoxy sealed to prevent the entry of flux and other contaminants. Wire assemblies are also available from NKK Switches upon request.

The operating temperature range for these devices is negative 25 degrees Celsius through positive 70 degrees Celsius. They can also withstand humidity at 90 to 95 percent for up to 240 hours at 40 degree Celsius.

A leading designer and producer of electromechanical switches, NKK Switches offers one of the industry's most extensive selections of illuminated, process sealed, miniature, specialty, surface mount and programmable switches. NKK manufactures more than 3.5 million toggle, rocker, pushbutton, slide, rotary, DIP rotary, keypad and keylock switches, each of which can be used as the foundation of a customized design. All switches are designed and manufactured to provide the quality and dependability that has made NKK the benchmark for reliability for over half a century.

NKK continues to lead the industry in responding to the needs of the marketplace with innovation, high reliability, customization and a commitment to excellence. The company provides a full suite of customization solutions that include: design, programming, printing and support. Downloadable 3D CAD models of the company's switches are available, allowing design engineers to quickly integrate complex models into their designs at no charge. NKK maintains a complete network of qualified representatives and distributors through the United States, Canada, Central and South America, Europe and Asia.

Engineers who design the human-machine interface for their products rely on the broad product line, specialized design expertise and customer support of NKK Switches. For more information, contact NKK Switches, 7850 E. Gelding Dr., Scottsdale, AZ 85260. Phone: (480) 991-0942. Fax: (480) 998-1435. Visit the NKK Web site at www.nkkswitches.com.

More from Fluid & Gas Flow Equipment