Panel Meter displays rates or totals up to 6-digits.
Press Release Summary: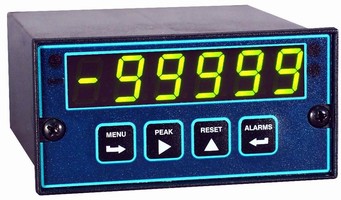 Laureate Model VF programmable panel meter and process signal totalizer is UL-listed, and displays rates or totals from transducers with 4-20 mA, 0-1 mA, or 0-10 V process signal output. Suited for flow and non-flow applications, unit converts analog signal to frequency, which is converted to rate with accuracy of ±0.02% of full scale at 25 readings/sec. Adaptive filter reduces variations due to noise while responding to actual changes in signal level.
---
Original Press Release:

Meter Displays 6-Digit Totals from Analog Process Signals



Costa Mesa, CA - Laurel Electronics, Inc. announces the Laureate Model VF, a UL-listed, programmable 6-digit panel meter and process signal totalizer which can display rate or total from transducers with a 4-20 mA, 0-1 mA or 0-10V process signal output.

The Laureate VF is ideal for flow applications, where rate readings can easily be scaled to units of flow such as gallons/minute, and totalized readings can easily be scaled to units of volume such as gallons. Square root extraction is standard for use with differential pressure flow sensors, and can be applied to both rate and total.

The Laureate VF is also suitable for a wide range of non-flow applications which require totalizing of an analog process signal. For example, the unit can display kilowatt-hours from the 0-1 mA signal of a watt meter.

The display of rate or total may be scaled to ±999,999. The two least-significant digits may be set to display zero with rounding or be active digits. An adaptive filter can reduce variations due to noise while rapidly responding to actual changes in signal level.

The Laureate VF converts the analog signal to a frequency, which is then converted to rate. Typical accuracy is ±0.02% of full scale at 25 readings per second. Such fast response is ideal for alarm and control applications. Scaling to engineering units and totalizing are done mathematically. Totals are stored in nonvolatile memory in case of power loss.

The totalizing version also provides advanced features: batch control, custom curve linearization to extend the range and accuracy of transducers, and display of time based on rate, such as the time it will take a conveyor to traverse a bake oven.

A built-in isolated 5, 10, or 24 Vdc excitation supply is standard to power transducers. Options include dual relays for control or alarm, isolated 4-20 mA and 0-10V analog outputs, and an RS232 or RS485 port for data communications with a host computer or PLC. Modbus RS485 is fully supported.

The base price is $260 for process signal rate or totalizing, $220 for process rate only. For product specifications and the pricing of options, visit www.laurels.com/v-to-f.htm

For more information, contact Jim Way, VP Sales & Marketing, phone: 866-709-7713 or 714-434-1631, email sales@laurels.com.

Founded in 1990, Laurel Electronics, Inc. is a leading U.S. manufacturer of programmable industrial digital panel meters, counters, timers, and DIN rail transmitters.

Company Information:
Name: Laurel Electronics, Inc.
Address: 3183-G Airway Ave.
City: Costa Mesa
State: CA
Zip: 92626
Country: USA
Phone: 866-709-7713 (toll free)
Fax: 714-434-3766 4
Web: www.laurels.com
Email: sales@laurels.com

More from Computer Hardware & Peripherals