Panel Meter displays duty cycle for signals to 10 kHz.
Press Release Summary: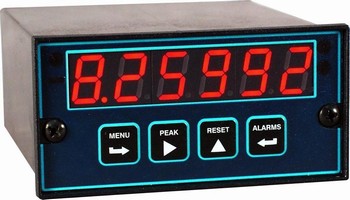 With selectable resolution of 1%, 0.1%, or 0.01%, Laureate Model FRD displays ON or OFF period as percent of total period for repetitive waveshapes. UL-listed unit can be used in timing mode for events from 0.005 Hz to 10 kHz by averaging integral number of periods over gate time, which is selectable from 10 msec to 199.99 sec, or in counting mode for longer periods by counting ac line cycles. Various inputs are supported, and 1/8 DIN case meets NEMA 4X specifications.
---
Original Press Release:

Panel Meter Displays Duty Cycle for Signals to 10 kHz



Costa Mesa, CA - Laurel Electronics, Inc. announces the Laureate Model FRD, a UL-listed duty cycle panel meter which displays ON or OFF period as a percent of total period for repetitive waveshapes. A resolution of 1%, 0.1% or 0.01% is selectable. By selecting leading or falling pulse edges, the ON or OFF duty cycle can be displayed.

Model FRD can be used in a timing mode for events from 0.005 Hz to 10 kHz by averaging an integral number of periods over a gate time, which is selectable from 10 ms to 199.99 s. Accuracy is 0.01% from 0.005 Hz to 500 Hz. It can also be used in a counting mode for longer periods by counting AC line cycles, taking the ratio of AC line cycle counts, and displaying this ratio in percent.

Model FRD accepts the output of NPN or PNP proximity switches, contact closures, digital logic, magnetic pickups down to 12 mV, or AC signals up to 250 Vac. Jumper selections provide optimum operation for different sensor types and noise conditions. A built-in isolated 5, 10, or 24 Vdc excitation supply can power proximity switches and other sensors, and eliminate the need for an external power supply.

The unit features a 6-digit LED display, which can be scaled for display in percent or other units of measure. The 1/8 DIN case meets NEMA 4X (IP65) specifications from the front when panel mounted. Programming can be via the meter front panel or an external PC. Any setup functions and front panel keys may be locked out for simplified usage and security.

Options include dual relays for control or alarm, isolated 4-20 mA and 0-10V analog outputs, and an RS232 or RS485 port for data communications with a host PC or PLC. Modbus communications are fully supported.

Duty cycle measurement is used to monitor modulated proportional control systems and pulse width modulated systems, such as radar, lasers or packet radio, also to monitor utilization of control devices in automated systems, such as relays, solenoids, motors and pumps.

The base price of Model FRD is $260. For specifications and the pricing of options, visit www.laurels.com/duty-cycle.htm.

For more information, contact Jim Way, VP Sales & Marketing, phone: 866-709-7713 or 714-434-1631, email sales@laurels.com.

Founded in 1990, Laurel Electronics, Inc. is a leading U.S. manufacturer of programmable industrial digital panel meters, counters, timers, and DIN rail transmitters.

Company Information:
Name: Laurel Electronics, Inc.
Address: 3183-G Airway Ave.
City: Costa Mesa
State: CA
Zip: 92626
Country: USA
Phone: 866-709-7713 (toll free) or 714-434-6131
Fax: 714-434-3766
Web: www.laurels.com
Email: sales@laurels.com

More from Communication Systems & Equipment