Panel Fasteners install without screws or tools.
Press Release Summary: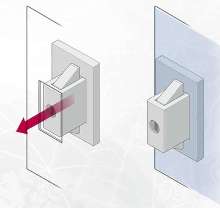 D-SNAP technology provides mechanical means of installing hardware on sheet metal surfaces that stays securely attached to panel even in severe vibration environments. Housing holds spring-loaded wings that snap into position to hold latch or hinge firmly in panel. They retract as part is installed and slide back into place with snap sound when installation is done. Mechanism can be retracted to allow hardware to slide out of panel opening.
---
Original Press Release:

DIRAK Introduces Innovative 'D-Snap' Technology; Expects Broad Acceptance and Use


DIRAK, a global innovator in latches, locks and hinges, announces the introduction of D-SNAP technology, a new mechanical approach to installing hardware on sheet metal surfaces without screws or tools.

"D-SNAP started as a solution to a specific need in our industry, but the design is so simple and versatile that it can be adapted for countless applications," said Dieter Ramsauer, president of DIRAK and the engineer-designer of D-SNAP.

The technology offers manufacturers the potential to reduce cost and speed up the assembly processes, because it eliminates the time-consuming tradition of working with screws, washers, and nuts. Because installation hardware is not used, the product remains securely attached to the panel, even in severe vibration environments.

A hinge or latch with integrated D-SNAP technology requires no other parts for installation on a panel. The D-SNAP housing holds a spring-loaded set of wings designed to snap into position to hold a latch or hinge firmly in the panel. Panel preparation consists of a simple rectangular opening.

Hardware Installation without Screws or Tools:

Before installation, D-SNAP's wedge-shaped wings protrude from the housing. They retract as the part is installed, and slide instantly back into place with a "snap" sound, as installation is accomplished. In place, the effect of the wedge-shaped wings is like the action of a toggle bolt, preventing the housing from being removed through the panel opening.

Traditionally, installing a hinge or lock requires aligning the hardware, then fitting and tightening screws, plus washers and nuts in some instances. Installation with D-SNAP technology, from start to finish, takes about as much time as merely aligning a part -- the first step of the traditional assembly.

To allow for easy replacement and for maintenance of associated areas, the D-SNAP mechanism can be retracted, easily allowing the hardware to slide back out of from the panel opening.

DIRAK, with global headquarters in Germany and with U.S. headquarters in Chantilly, Va., will introduce the concept on some of its own premium latch and hinge products starting in October, under the name DIRAK SNAP-LINE products.

The first SNAP-LINE hinges were displayed at the EuroBlech industrial trade show, October 26-30 in Hanover, Germany.

DIRAK products are sold and distributed globally through a network of authorized sales representatives. Other products in the DIRAK modular Locking, Latching, and Hinging System family include quick release fasteners, quarter-turn fasteners, snap/push locks, knobs, handles, wing-L&T handles, Swinghandles, hinges, and EMI/RFI gasketing. For additional information, contact DIRAK, Inc., 4115 Pleasant Valley Road, Suite 200, Chantilly, VA 20151. Tel: 703-378-7637. Fax: 703-378-7638. www.dirak.com E-mail: options@dirak.com

More from Waste Management & Waste Handling Equipment