Panel Built Inc Releases New Mezzanine Products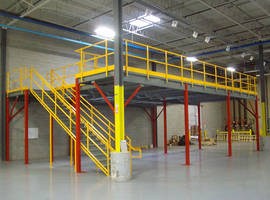 ​For most companies looking to expand the room in their warehouse facility, the mezzanine platform will have a distinctive purpose to that facility." Whether the structure will function as a work platform, storage area, or if it is going to hold equipment, it will require different specifications and features in order to function properly. A mezzanine in an area with heavy foot traffic may need more safety features, or a storage platform could require a vertical reciprocating conveyor to move inventory back and forth. Panel Built has recently added new options to increase mezzanines usability.
1. Hand Rail
Mezzanine and storage platforms will provide a number of different hand railing options to best fit the application. Depending on the use of the warehouse mezzanine system, there may be certain regulations or codes with which to build a mezzanine. If the mezzanine is open to the public or is in an area with high traffic, there will be higher more strict building codes placed on it. In these high traffic areas, IBC railing provides rails of 42" high and 34" high on both sides of the mezzanine's stairwell. While OSHA standards require railings on open sides of the stairwells and a handrail on a side, preferably the right side descending at 34" high.
2. Utilizing Barrier Railing
For all facilities, safety is one of, if not the most important rules. Barrier railing, also known as safety railing, provides some extra assurance, especially in areas with heavy forklift traffic. The Barrier railing is constructed of high strength steel and is designed to withstand heavy impacts. When placed around the columns of a warehouse mezzanine, the railing will help prevent damage to recent investments.
3. Safety Gates
For mezzanines used as storage platforms, safety gates provide a secure option to safely move inventory on and off the level with ease. The main benefit of pivot gates is their ability to always have the mezzanine closed off from the facility floor. The gate's arms will only allow one side of the gate to be open at a time, protecting all employees. This safety net allows for facility workers to operate the gate and transport inventory with peace of mind. Panel Built also offers a number of additional gate options for a mezzanine. Swing gates, lift out gates, and slide gates allow for extreme convenience while moving inventory, just having to push the gate open or remove a section of the mezzanine railing.
4. Wire Partitioning and Lockers
Many companies take advantage of the extra space a warehouse mezzanine provides by creating a locker room like environment underneath the structure. The wire partitioning allows a visual on the contents of the storage unit, while still keeping them protected. With an up against the wall mezzanine, the wire lockers can be placed against the wall, occupying all the vertical space between the warehouse floor and the bottom of the mezzanine deck. This provides maximum storage space, while only taking up minimal room on the warehouse floor.Vertical Reciprocating Conveyor
5. Vertical Reciprocating Conveyors
Similar to an elevator system, a vertical reciprocating conveyor travels up and down to transport objects from one level to the next. However, unlike an elevator, a VRC is not constructed for human transportation, but strictly inventory and goods. This conveyor system offers the quick and convenient transportation of goods from a mezzanine level to the warehouse floor, without the use of a forklift. No matter what inventory needs to be transported, the VRC allows movement in the easiest and most consistent way possible. A VRC can even include added features in order to perfectly fit the need of a warehouse. We can add an additional railing, chains, or wire mesh to the sides of the platform in order to ensure the greatest safety measures possible. These conveyor systems provide the most benefit to a warehouse mezzanine system when it is being used as a storage platform, rather than an equipment or work platform.
6. Modular Offices
In many situations, warehouses or manufacturing facilities need to add an office area to provide a controlled and calm work area away from the warehouse floor. In these instances, a warehouse mezzanine can be the perfect structure to place a modular office on top of, or underneath it. The benefit of adding a modular office to a mezzanine is, of course, that employees do not have to take up any unnecessary space on the facility floor. This type of office is perfect for a supervisor type, who would need to have a workspace overlooking the warehouse floor. It can also be manufactured to reduce noise, creating a calmer working environment away from the facility. For this reason, a modular office on a mezzanine is one of our most popular modular construction options for its convenient location and its ability to keep space free on the warehouse floor.
7. Ladder Options
Depending on the purpose of the mezzanine, using a ladder system as the main entrance could provide a warehouse with certain benefits. If the mezzanine system is going to primarily be used as a storage or work platform, a ladder system could be a viable option, or if combined with a pivot gate or VRC, they would even work with a storage mezzanine. The main benefit of utilizing a ladder in place of a stair system is that the ladder system is going to take up less area on the warehouse floor. If a mezzanine system needs to maximize its total usable area, the ladder system would best allow that's accomplishment. However, with the ladder system, more safety precautions must be taken. For this reason, most companies will use a caged ladder to reduce the chance of employee accidents or if a worker does fall, they have a chance of catching themselves or pinning themselves against the ladder's cage.
8. Mezzanine Decking Options
Advantech
The most common of our warehouse mezzanine decking options, Advantech is a high-quality flooring material that has properties similar to plywood and Oriented Strand Board. However, it provides advanced strength, stiffness, and moisture resistance. This type of decking is considered the most economical option of the materials that we offer.
ResinDek Similar to our Advantech option, ResinDek provides a higher density composite flooring recommended for mezzanines require a solid floor, subject to heavy loads from the use of pallet jacks, carts or dollies. This option is typically installed over 20g corrugated steel decking and has a load capacity of up to 2000 lbs. Its surface is skid resistant and easy to clean.
Steel Grating Mezzanine Decking
This type of flooring is preferred by many warehouses, in many applications, due to its insurance implications. Welded grating, a common choice in waste management, mining, and food service industries, allows for air, light, and water to pass through the deck surface
Diamond Plate
If durability is a serious factor in the warehouse mezzanine decision, or a diamond plate floor is a consideration. Heavy-duty steel tread plate (diamond plate) is generally installed over Advantech. Advantech is mounted over corrugated steel deck to provide greater durability with higher point load and wheel load capacities. It also enables a quiet floor for the work environment as opposed to having diamond plate directly over a steel deck.
Concrete
The most durable decking option possible is concrete. With a high point load and minimal transmission of noise through the deck, concrete should be used in high capacity industrial and military applications where the mezzanine is considered to be permanent."