Panasonic Adds Three LCD Monitors To Display Line.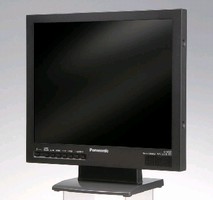 Color and B/W Models Complete a Full Range of Screen Solutions.

Las Vegas, NV (April 5, 2006) - Panasonic Security Systems, a division of Panasonic System Solutions Company (PSSA), has a wide range of monitors available to fit every possible security application and budget level. To supplement the company's established lines of plasma and CRT displays, Panasonic has added three new LCD displays to provide a general-purpose, economical flat screen solution.

"These three new LCD displays offer extraordinary image quality and great value," said Miguel Lazatin, Product Marketing Manager - Cameras, Panasonic Security Systems. "The range of sizes and available mounting options make them ideal for general purpose monitoring applications with all the inherent benefits afforded by flat screen technology."

The WV-LC1710 LCD display comes equipped with a 1,280 x 1,024 high resolution SXGA panel, 500 TV lines of horizontal resolution, a 178 degree (horizontal) x 178 degree (vertical) viewing angle, an 8-bit full color display, plus proprietary Panasonic image-processing technology that delivers images with greater sharpness and clarity. It also comes equipped with three video terminals (composite, S-Video and Y/Cb/Cr component video) plus RGB for PC input, audio output and a max. 0.5W built-in speaker. For an even more economical solution, the new WV-LD2000 and WV-LD1500 LCD displays are equipped with VGA panels that combine brightness with ultra fast response time.

For more information contact Panasonic Security Systems by calling toll free
1-866-PAN-CCTV (1-866-726-2288) or visiting our web site at www.panasonic.com/security.

About Panasonic
Panasonic System Solutions Company, a unit of Panasonic Corporation of North America, is a leader in Intelligent Technology for the professional security industry. The company's comprehensive line of security and surveillance systems products features Super Dynamic III DSP cameras and dome systems, comprehensive analog/digital Hybrid networking solutions, digital video recorders, matrix and sequential switching systems, control software, plasma displays, LCD monitors, lenses, peripheral devices, and iris reader access control and identity management systems. Based in Secaucus, NJ, Panasonic Corporation of North America is the principal North American subsidiary of Matsushita Electric Industrial Co., Ltd. (NYSE:MC) of Japan, and the hub of Panasonic's U.S. marketing, sales, service and R&D operations. Information about Panasonic and its products is available at www.panasonic.com. Additional company information for journalists is available at www.panasonic.com/pressroom.

More from Welding Equipment & Supplies