Pan-Tilt Units optimize IR camera motion control.
Press Release Summary: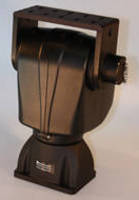 Along with 32-bit MCU that optimizes motion control fidelity and Ethernet interface for IP and web control, E-Series offers expandable payload I/O and digital encoders that provide user-configurable ranges of motion. Payload capacities range from 15-70 lb, depending on model, and available options enable on-board stabilization and geo-pointing. Computer-controlled units feature microstep control up to 1/8 and fully controllable pan/tilt speeds from below 0.006°/sec to 120°/sec.
---
Original Press Release:

E-Series High-Performance Pan-Tilt Units



Integrated Ethernet, Improved Motion Control Fidelity

BURLINGAME, California. - FLIR Motion Control Systems Inc. (formerly Directed Perception), a leading manufacturer of advanced products for the control and positioning of sensors, today announced the launch of its E-Series families of computer controlled pan/tilt units. The E-Series pan/tilt models incorporate an integrated 32-bit microcontroller providing improved motion control fidelity including higher command rates, lower jitter, built-in Ethernet interface for IP and web control, and expandable payload I/O. The E-Series models also include integrated digital encoders providing user-configurable ranges of motion and more robust operation in unpredictable environments.

The following E-Series models are available:

PTU-D48 E-Series - payloads to 15 lbs; integrated slip-ring, compact, rugged

PTU-D100 E-Series - payloads to 25 lbs; IP67, suitable for fixed and mobile applications

PTU-D300 E-Series - heavy duty payloads to 70 lbs; high-duty cycles; multiple wiring options

Raising the bar in pan/tilt performance
The E-Series models build on FLIR Motion Control Systems' proven and powerful pan-tilt families to deliver improved performance and increased flexibility. The E-Series architecture includes:

Increased torque, speed and acceleration (depending on model/configuration)

Advanced microstep control (up to 1/8th)

Digital encoders for closed-loop control

User-programmable ranges of motion

Integrated Ethernet and Web interfaces

Expanded I/O for payload control

Increased command rate and reduced jitter

On-board stabilization (with ISM option)

On-board geo-pointing (with GPM option)

The E-Series provides several benefits to OEMs and systems integrators including:

Reduced system cost due to elimination of components (e.g., network interfaces)

Increased reliability in unpredictable environments

Simplified configuration and control using IP/Web interfaces

Delivering improved performance across wide range of applications
The durability and flexibility of FLIR MCS pan/tilt units, combined with the new E-Series performance improvements provide a superior pointing solution for a wide range of applications and environments including: tower mounted surveillance cameras, police and military ground vehicles, antenna tracking systems, border and perimeter surveillance, military force protection systems, night-vision applications, and more.

The E-Series pan/tilts incorporate a patent-pending mechanical design using a worm gear design for superior dynamics and rigidity - no belts or pulleys. Specific performance features include:

Payload capacities from < 15 lbs to over 90 lbs. (depending on model)

Fully controllable pan and tilt speeds ranging from below 0.006°/second to 120°/second (depending on model)

Multiple built-in control interfaces: RS-232, RS-485, RS-422, and Ethernet

Fine-grained control of speed, position, acceleration and power consumption

On-the-fly command changes to support dynamic tracking and stabilization applications

Rugged all-weather design (IP67)

Wide-range operating temperature (-30° to +70° C) (no heaters required)

Single DC power input, low power consumption

Single MIL-style connector for all pan/tilt and payload signals.

Designed for easy customization for OEM applications
The E-Series units are designed specifically for rapid customization to meet a wide range of OEM requirements. The E-Series electronics include serial and discrete I/O as well as a high-speed serial expansion bus to meet payload I/O and control requirements.

Compatibility with current pan-tilt models
The E-Series models are designed for simple migration of applications from existing pan-tilt models. The existing ASCII and binary command interfaces for the DP command set are fully supported for E-Series units (with higher command rates; and new semantics for user-programmed motion limits).

The following features facilitate migration and integration to E-Series pan-tilt models:

Same application command interface (ASCII and binary)

Larger base connector (32-pin) providing universal base wiring configuration
- cable 19-32 pin available to support migration
- 32-pin breakout cable available

Dimensions - taller, larger base
- Same mounting pattern

Same payload connector/pin outs (PL01, PL02)

Overlapped availability of E-Series and current models

Price and Availability
Available starting May, 2010. Pricing depends on volume and model configuration.

About FLIR Motion Control Systems
Founded with a mission to be a leading manufacturer of innovative devices and software for the intelligent control of sensors and sensor processing, FLIR Motion Control Systems, Inc. (formerly Directed Perception) created one of the first miniature computer-controlled pan/tilt tracking mounts in 1992. FLIR MCS continues to lead the field in innovation, applied design, and service with patented products in use in a wide range of industries including Security & Surveillance, Industrial Automation, Robotics, Communications, Military/Aerospace, Law Enforcement, Education, R&D, Webcams, and Teleconferencing/distance learning applications. Our pan/tilt devices provide precise control of sensors like video cameras, thermal imagers, laser rangefinders, microwave antennas, and many more. MCS maintains engineering capabilities in mechanical design, electronics, and embedded, and network software development. More information at www.FLIR.com/MCS

About FLIR Systems
As the world's largest commercial infrared company, FLIR Systems has fielded more high quality maritime thermal night vision systems than anyone in the world. Our rugged, stabilized imagers are on thousands of civil and maritime platforms - surface and airborne - in the US and around the world. That's more than every other manufacturer combined.

FLIR's powerful, rugged, all-weather thermal imagers allow you to navigate safely and confidently - seeing obstructions, buoys, and other vessels through total darkness. From the low-cost Navigator II to the revolutionary M-Series; from the long-range Voyager II to the hand-held First Mate, FLIR's family of maritime thermal imagers will help you see at night and keep you and your loved ones safe.

Whether you're heading out early, coming home late, or cruising around the clock, FLIR has a thermal night vision system to meet your needs.

With thousands of our thermal cameras on the job in military, scientific, law enforcement, and security applications, FLIR brings an unmatched level of experience and dedication to the creation of cutting edge thermal night vision systems.

We design and manufacture all of the critical technologies inside our products, including detectors, electronics, special lenses, pan/tilt motion control systems, and we assemble it all right here in the US.

For additional technical information, or to see a demonstration of these revolutionary thermal night vision systems, contact a FLIR representative today. You can also visit www.FLIR.com to watch product videos and see how thermal imaging can keep you on the water, night and day.

More from Sensors, Monitors & Transducers