Pan and Tilt IP Video Camera records automatically.
Press Release Summary: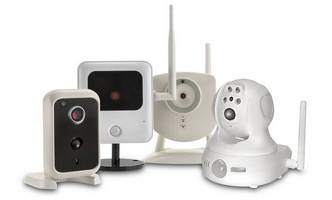 Pan and tilt IP video camera, used with SecureCom Wireless Video Services, begins recording automatically when motion is detected, in day or night view. Users can view and record video via Virtual Keypad™ App, and see it streamed live on mobile device at 10 fps. Suited for commercial or residential installations, product is available in models for interior and exterior use in wired and wireless versions. Up to 6 cameras can be used in system with wireless access point for networking.
---
Original Press Release:

New Pan & Tilt Camera Joins the DMP Family



Make room for Pan & Tilt DMP Cameras



Springfield, MO - Digital Monitoring Products (DMP) has announced the Pan & Tilt IP video camera used with SecureCom Wireless Video Services is now available. Video recording can be triggered to begin automatically when the camera analytics sense motion in both day or night view. End users have the ability to remotely view and record video via the DMP Virtual Keypad™ App as well as email video clips. The new video capability enhances security for system owners while also giving them the convenience of being able to visually survey their commercial or residential premises.



"With the increase of mobile apps and IP video, DMP offers more services for dealers to reach home and business owners as well as increased RMR opportunities," said Vice President of Sales, Mark NeSmith.



DMP offers a range of cameras. There are models for interior and exterior installations in both wired and wireless versions, making it possible to provide complete coverage both inside and outside the premises. Up to six cameras can be used in a system, along with a wireless access point to provide secure networking between the camera and the premises.



Using the Virtual Keypad App, users can monitor cameras via an Apple® or Android® device, whether they are in the next room or across the country. Cameras can be programmed to automatically begin recording when they sense motion, and the user can receive email alerts of video clips or watch live streaming video from their device at 10 FPS.



DMP is a privately held independent manufacturer of innovative intrusion, fire, access control, network and cellular communication products that are designed and made in the United States of America. DMP is the recognized leader in alarm communication over data networks, with products that are available through professional electronic security companies. For more information, contact Melissa Pitfield at (800) 641-4282, or visit www.dmp.com .



About DMPDMP is a privately held independent manufacturer of innovative intrusion, fire, access control, network and cellular communication products that are designed and made in the United States of America. DMP is the recognized leader in alarm communication over data networks, with products that are available through professional electronic security companies.



DMP

2500 N Partnership Blvd, Springfield, MO 65803, USA



Contact:

Melissa Pitfield

Phone: 417-831-9362

marketing@dmp.com



Press Contact:

Mark Hillenburg

Phone: 417-831-9362 X132

Mobile: 417-849-4313

mhillenburg@dmp.com