Pallet Trucks feature AC drive system.
Press Release Summary: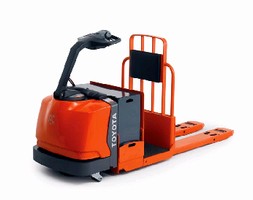 Suitable for general warehousing and retail operations, 8-Series includes walkie pallet truck, tow tractor, center control rider pallet truck, and end control walkie/rider pallet truck. Trucks use CAN-bus communication to control all functions, and include multifunction control handle that digitally displays hour meter, performance parameters, battery discharge, and fault code information. Soft-cushioned rider platform minimizes fatigue by dampening vibration.
---
Original Press Release:

Toyota Introduces 8-Series AC Pallet Truck Line



IRVINE, Calif. (July 19, 2007) - Toyota Material Handling, U.S.A., Inc. (TMHU) today announced the introduction of its 8-Series AC pallet truck product line including: the walkie pallet truck, tow tractor, center control rider pallet truck and end control walkie/rider pallet truck. These AC pallet trucks all feature a powerful AC drive system that delivers more runtime per battery charge, maintains higher levels of performance throughout the work cycle and is virtually maintenance free.

"In addition to wanting our customers to have the most productive and energy-efficient products, we also want them to have the industrial truck that best suits the rest of their needs, including convenience and safety," said Shankar Basu, president and CEO of TMHU. "With the new 8-Series AC pallet trucks, we are confident that our customers will get exactly what they need - a durable, efficient, reliable and flexible product."

The new AC drive motor offers excellent acceleration and top travel speed, loaded or unloaded, while improving battery efficiency through regenerative braking. Additionally, AC drive motors have no springs, brushes, commutator or wearable parts thus reducing planned maintenance.

The new line of lift trucks also use Controller Area Network (CAN-bus) communication technology to provide precise, fast and reliable control of all truck functions with fewer electrical components.

The modern 8-Series pallet trucks also include an ergonomic multifunction control handle equipped with a digital display offering hour meter, performance parameter, battery discharge and fault code information. In addition, the soft-cushioned rider platform was designed to reduce fatigue by dampening the effects of vibration.

The end-control rider also offers an electronic coast control option with jog buttons, which increases the productivity of both the operator and pallet truck by eliminating the need to climb on and off the truck during floor-level order picking.

All of these pallet truck products are commonly used in applications ranging from general warehousing to retail operations.

About Toyota Material Handling, U.S.A., Inc.
Celebrating its 40th year of establishing operations in the United States, Irvine, Calif.-based Toyota Material Handling, U.S.A., Inc., (TMHU) is the number one selling lift truck supplier in the U.S. since 2002 and offers a full line of high-quality lift trucks sold under the Toyota brand. Built on a reputation for excellence, Toyota is known for its quality, reliability and durability. Quality is the hallmark of Toyota's world-renowned Toyota Production System practiced at all Toyota manufacturing facilities, including Toyota Industrial Equipment Manufacturing (TIEM) in Columbus, Ind. Most of the Toyota lift trucks sold in the United States are manufactured at TIEM.

TIEM and all Toyota manufacturing plants in the U.S. and Canada comply with the ISO 14001 standard from the International Organization for Standardization (ISO), and have been honored for their environmental management systems and dedication to continuous improvement.

Toyota's commitment to excellence in customer service extends nationwide. Sixty-nine authorized Toyota Industrial Equipment dealers, with a total of 189 dealership locations throughout the United States, offer comprehensive customer service support, including one-stop shopping for both new and Certified Used lift trucks, parts, service and financing. For more information on TMHU, please visit www.toyotaforklift.com or call 1-800-226-0009

More from Machinery & Machining Tools