Pallet suits food and beverage package handling.
Press Release Summary: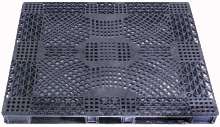 Constructed of high-density polyethylene, T-PAK(TM) 4456 pallet features one-piece design with Smart Deck Technology(TM) to create flat, smooth surface. FDA-approved product has 44 x 56 in. footprint and 4.375 in. height with 4-way fork entry. Hygienic, flow-through deck design offers static and dynamic load capacities rated at 30,000 and 4,000 lb respectively. Product is RFID-ready and features 14 separate areas for labeling.
---
Original Press Release:

New T-PAK(TM) 4456 Pallet from LINPAC Materials Handling Ideal for Food and Beverage Packaging Handling


GEORGETOWN, KY (July 7, 2004) - LINPAC Materials Handling, manufacturer of high-quality ROPAK(TM) reusable container systems, introduces the new T-PAK(TM) 4456 pallet. The 4456 pallet's rugged, one-piece design was created specifically to serve as a platform for the transport of metal, plastic, and composite beverage and food cans from manufacturer to filler. It has been approved by the FDA as meeting sanitary requirements for packaging handling in food and beverage applications.

Constructed of high-density polyethylene, the 4456 pallet easily withstands the abuse of multiple return trips. It features a 44" x 56" footprint and a 4.375" height with four-way fork entry. The 4456 pallet's static load capacity is 30,000 lb (13,607 kg), while its dynamic load capacity is 4000 lb (1814 kg). Its design incorporates Smart Deck Technology(TM) to create a flat, smooth surface.

"The top deck of any pallet used in the food and beverage markets must be designed to remain as flat and smooth as possible throughout transport and handling," explains J.P. Chipps, Food and Beverage Unit Manager for LINPAC Materials Handling. "Smart Deck Technology enables the pallet surface to resist deflection and warping."

The 4456 pallet also features a hygienic, flow-through deck design, exclusive to LINPAC Materials Handling. Surface openings in the top deck are perfectly aligned to the underside openings. This allows both contaminants and wash water to easily fall through the openings, rather than collect on surfaces, for a bacteria-free, fast-drying pallet. Because water has no place to pool in the 4456 pallet, it eliminates the need for air dryers on the wash line.

"The new design of this pallet offers tremendous value to our customers," says Chipps. "The 4456 pallet has more features in comparison to other returnable pallets in the same market space, however, it is priced below its strongest competitors."

The 4456 pallet's additional features include its RFID-ready capacity and 14 separate areas for labeling. Molded-in company logos or hot-stamped identification numbers are also available as options. As with all LINPAC Materials Handling products, its workmanship and materials are guaranteed with a three-year warranty. The 4456 pallet may also be recycled at the end of its useful life. LINPAC Materials Handling also offers a variety of logistics solutions to help customers better manage their handling and transportation needs.

LINPAC Materials Handling manufacturers ROPAK(TM) reusable bulk containers and totes. These products are used in warehousing, manufacturing, transportation, distribution and merchandising to replace single trip paper, cardboard and metal packaging. Made of premium grade high-density polyethylene (HDPE) and copolymer polypropylene (CPP) for durability, LINPAC containers and totes are available in a wide variety of configurations and weight capacities.

LINPAC Materials Handling products serve in a variety of industries, including automotive, plastics, chemicals, textiles, industrial equipment, beverage, fresh produce, meat, poultry and retail grocery. A full range of design, implementation, financial and support services is available.

For more information about LINPAC Materials Handling, please visit www.LinpacMH.com, or contact Kim Stone at 502-863-5500, or toll free at 1-800-442-4892, or by email at kim_stone@linpacmh.com.

More from Agricultural & Farming Products