Pallet Stacker is suitable for computer industry.
Press Release Summary: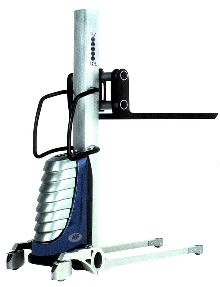 Voyager Stacker offers aluminum frame and modular construction with ergonomically correct positioned steering handles. Available in manual pump or battery powered lift versions, capacities are rated at 1,000 and 2,000 lbs at 24 in. load center. Power lift model has 12 V deep cycle battery with built-in charger, battery discharge indicator, and key controlled on/off button. Lifting system provides 63 in. of lift and incorporates non-corrosive webbing.
---
Original Press Release:
Stylish Pallet Handling with the Voyager from Blue Giant

Brampton, ON, July 1, 2002 - Sleek and dynamic, provocative and "alien-looking" are only a few of the adjectives used to describe the latest addition to the Blue Giant family of products. The Voyager Stacker delivers cutting edge design and technology.

The unique lightweight aluminum frame and modular construction with ergonomically correct positioned steering handles makes the Voyager easily maneuverable and user-friendly, suited to an all gender workforce.

The Voyager is offered in either a manual pump or battery powered lift version and is available in 1,000 lb and 2,000 lb capacities at 24" load center. The power lift model features a 12-volt deep cycle battery with built-in charger, battery discharge indicator and key controlled on/off button.

The lifting system, providing 63" of lift, is enclosed within the narrow mast section and incorporates high tensile strength webbing that is non-corrosive, lightweight and durable. The lowered mast height of only 78" eliminates concerns of interference with doorway traffic. Adjustable straddles (outriggers) and 45" long forks are also standard and models can be ordered with a fork-over straddle configuration for space saving, open pallet design applications.

The Voyager is perfectly suited for the pharmaceutical or computer industry, high profile showrooms, clean room applications and/or retail outlets. The applications are truly endless.

The Voyager Stacker from Blue Giant is certainly a unique, agile and refreshing alternative over any traditional, bulky type industrial stacker. Discover how it leads a whole new generation of stackers.

Blue Giant designs and manufactures a complete line of loading dock equipment, scissor lifts, dock safety products and manual and electric pallet trucks, stackers and tow tractors, sold through a global dealer network. Visit our website www.BlueGiant.com for more product information.

Steve Greco

Marketing Manager

Blue Giant Equipment Corporation

85 Heart Lake Road South

Brampton, ON L6W 3K2

BLUE GIANT EQUIPMENT CORPORATION
85 Heart Lake Road South, Brampton, Ontario, Canada L6W 3K2

Tel 800 668 7078; Fax 888 378 5781; www.BlueGiant.com