Pallet Lift Indicator allows for visual inspection.
Press Release Summary: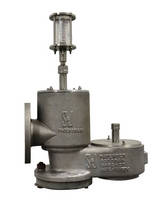 Model 99060 Duracator is visual pallet lift indication device for conservation vents that allows plant personnel to visually detect percentage of pallet lift that has occurred. It fastend to top of conservation vent pressure cover or hood and features memory and following modes. Memory mode displays maximum percentage of pallet lift until it is reset, while following mode indicator tracks position of pallet and returns to zero when it closes. It is available in 2-6 in. and 8-12 in. sizes.
---
Original Press Release:

Shand & Jurs' Designs New 99060 Duracator for Conservation Vents



Hillside, IL -- Shand & Jurs has introduced the new 99060 Duracator to our line of Conservation Vent Accessories.

The 99060 Duracator is a visual pallet lift indication device for conservations vents and allows plant personnel to visually detect the percentage of pallet lift that has occurred.

The Duracator is fastened to the top of a conservation vent pressure cover or hood. The 99060 utilizes a modified pallet stem to engage a magnet which causes the flipping of magnetic indicators as the pallet stem rises when there is a release of product vapor. As it rises, the magnetic indicators will flip from 0%, 25%, 50% and finally 100% pallet lift.

The 99060 Duracator features two modes of operation: Memory Mode and Following Mode. In Memory Mode, the maximum percentage of pallet lift will remain displayed on the device until it is reset with a special resetting magnet. In Following Mode, the Duracator's indicator will follow the position of the pallet and return to zero when the pallet closes.

The 99060 Duracator is available in two sizes: one for conservation vents in 2"-6" sizes and the other for conservation vents in 8"-12" sizes.

About L&J Technologies

L&J Technologies companies include L&J Engineering, Shand & Jurs (S&J), GPE, Omnitrol, and Delavan. L&J is a global manufacturer of tank level gauging and tank fitting equipment, steel processing equipment, waste water control systems technology and related products. L&J is a manufacturer that prides itself on 90 plus years of supplying the industry with only the finest American made components and equipment. Custom engineering services, reliable and innovative technology, a complete field service team, and a state of the art manufacturing facility help L&J to build productive relationships with customers, representatives and suppliers. L&J provides quality products for many industries, including Petroleum, Petrochemical, Chemical, Food, Pharmaceutical, Pipeline, Wastewater, Steel, and Water Treatment.

For more information on L&J Technologies:

www.ljtechnologies.com


Related