Pallet Labeler includes auto height feature.
Press Release Summary: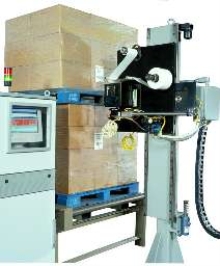 Model SA1010 prints and applies labels to side of pallet load. Rack and pinion Auto-Height feature allows labels to be placed on stacked pallet loads by changing height of label applicator. Machine can also be programmed to label at consistent level from top of varying height loads or avoid labeling seams between layers on random pallet loads. It is controlled by PLC, which can communicate with conveyor, stretch wrapper, and palletizer.
---
Original Press Release:

Kolinahr Systems' SA1010 Auto Height Pallet Labeler


Kolinahr Systems' SA1010 Auto Height Pallet Labeler is designed to print and apply labels to the side of a pallet load. The patented rack & pinion Auto-Height feature allows the labels to be placed on stacked pallet loads by changing the height of the label applicator. The SA1010 can also be programmed to label at a consistent level from the top of varying height loads or avoid labeling seams between layers on random pallet loads.

The machine is controlled by a PLC, which can communicate with the conveyor, stretch wrapper, and palletizer to ensure proper product handling during the labeling sequence. Full diagnostic reports communication tracking are available, making troubleshooting easy. A PC program simplifies the process of managing the label format(s) and database.

The barcode labels are printed with a Zebra(TM) PAX print engine and are applied to the pallet load by a variable stroke slide-cylinder tamp assembly. The spring-loaded tamp-pad adapts to the pallet load surface. The rugged PHD® slide-cylinder, along with the heavy-duty stand, the NEMA 12 industrial controls enclosure, and the other high quality commercial parts help ensure that the SA1010 will handle the rigors of 24/7 pallet load labeling.

Kolinahr Systems is a Cincinnati, OH-based manufacturer of pallet labelers, pallet load stackers, and specialty pallet handling equipment.

For more information contact:
Bill Walker
Manager of Marketing & Sales
Kolinahr Systems
513-745-9401 x20
bwalker@kolinahr.com

Related