Pallet Jack-Compatible Orbital Wrapper Eases Truck Loading and Unloading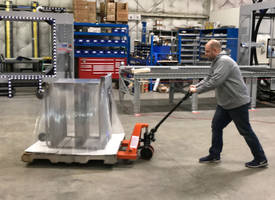 Ideal for LTL/Common Carrier, TAB Wrapper Eases Fork Access for Pallet Jacks
Orbital wrappers in the TAB Wrapper Tornado line from TAB Industries, LLC, Reading, Pa. (www.tabwrapper.com), wrap plastic film 360 degrees around and under the pallet and its load yet leave fork entries accessible to manual and powered pallet jacks, as well as to forklifts, to allow smooth, easy movement without risk of compromising the integrity of the film wrap. Ideal for material handling, packaging and shipping managers, the TAB Wrapper Tornado orbital wrapping machines enable LTL, common carrier and company delivery drivers who typically travel with pallet jacks to load and unload their trucks and trailers safely, quickly and easily. The TAB Wrapper Tornado is a patent-pending, semi-automated orbital wrapper that secures loads to their pallets to create a unitized load that improves product protection, safety and stability in transport and storage.
The TAB Wrapper Tornado line comprises three standard models to suit standard pallets 60" x 60", 48" x 48" and 24" x 24" along with a choice of semi-automated and fully automated, conveyor-fed systems for wrapping products in virtually unlimited lengths. Custom units are also available, along with a slate of optional accessories such as wireless remote operation, automated cut and wrap, and built-in foam dispensing to help seamlessly integrate with existing packaging and shipping operations. The TAB Wrapper line is manufactured in the company's Reading, Pa. headquarters and the packaging machines ship fully assembled with a full warranty ready to plug in and operate.
For a free brochure or more information, contact TAB Industries, LLC, 2525 N. 12th Street, Reading, PA 19605; 610-921-0012; info@tabwrapper.com or see www.tabwrapper.com.
More from Software