Paintlab+ Viscomixer features high stability motor speed control.
Press Release Summary: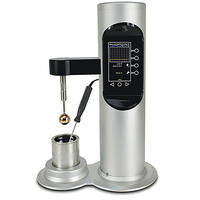 Used for measuring changes in viscosity level during addition of thinner, Paintlab+ Viscomixer operates at speed of 562 rpm. Featuring advanced temperature monitoring and precise measurement, unit determines thinning ratio of sample measured in 250 ml tin for scaling into production process. Product is available in three models and made of lab-tough glass for easy removal of splashes and smears from buttons and screen.
---
Original Press Release:
Introducing the New Viscomixer
Measure the Change in Viscosity during the addition of a Solvent or Thinner
Viscosity measurement of coatings is essential at each stage of the manufacturing process to ensure consistent quality standards. Many parameters can affect the rheological behavior of a finished coating resulting in undesirable effects such as inconsistent performance, poor levelling or sagging. The use of high precision measuring instruments is therefore essential in quality control to prevent such problems occurring during formulation, manufacture and application.
The Paintlab+ Viscomixer is a versatile instrument used to measure the change in viscosity during the addition of a solvent or thinner. Three Viscomixer models are available each offering a different measuring range according to the viscosity of the test sample.
A sample from a production batch can be quickly and easily measured in a 250ml tin and the required thinning ratio determined for scaling into the production process. The instrument operates at a fixed speed of 562 rpm to directly measure the viscosity in Poise (P).
Features
Precise measurement - High stability motor speed control ensures accuracy and repeatability during each test
 Advanced temperature monitoring - An integrated temperature probe accurately measures and records sample temperature for each test
 Automatic operation - Fully automated operation saves time by accurately lowering the rotor into the sample to the correct height
Easy clean design - Lab-tough glass allows easy removal and cleaning of unintentional splashes and smears from the capacitive sense buttons and screen
Flexible range configuration - The viscomixer can be configured to use multiple ranges by purchasing additional rotor kits
Calibration - Annual calibration can be performed remotely by the user with the Rhopoint certified recalibration kit
 Item Nos. VI-975010, VI-975020, VI-975030
Contact:
Sherri B. Thompson
Advt/Mktg Manager
Julia LaShure
Marketing Department
Paul N. Gardner Company, Inc.
316 NE 1st Street,
Pompano Beach, FL 33060
Email: jlashure@gardco.com
Phone no: 954.946.9454 x331
Url: www.gardco.com
More from Computer Hardware & Peripherals