Painted Oak Cabinet Finishes are a New Addition to Dura Supreme Cabinetry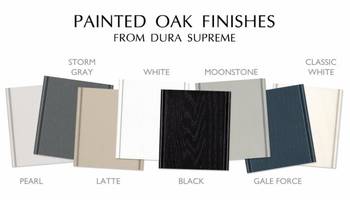 Howard Lake, MN: Painted cabinetry is more popular than ever before and now the beautiful grain texture of Oak adds modern appeal. Dura Supreme recently announced their latest addition to their finish selection, Painted Oak and Painted Quarter-Sawn Oak.
Painted Oak and Quarter-Sawn Oak finished are now available on all of Dura Supreme's standard Paint finishes as well as their Personal Paint Match Program finishes and Curated Color Collection finishes.
About Dura Supreme Cabinetry
Located in Howard Lake, Minnesota, Dura Supreme manufactures semi-custom and custom, framed and frameless cabinetry for a nationwide network of dealers. For 60+ years homeowners and designers have looked to Dura Supreme for kitchen and bath cabinetry that fulfills their desire for personalized design choices and outstanding quality of construction. To learn more about Dura Supreme or to contact an authorized Dura Supreme cabinetry dealer visit www.durasupreme.com.
Media Contact:
Mandi Juskiewicz
Marketing Communications for Dura Supreme Cabinetry
Phone: (888) 711-3872 Ext. 4542
Fax: (320) 543-4591
Email: marketing@durasupreme.com 
300 Dura Drive, Howard Lake, MN 55349
Related