Paint Tray and Accessories reduce spills during painting.
Press Release Summary: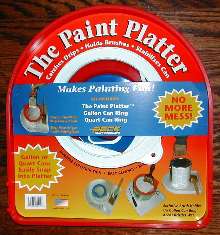 Paint Platter snaps on bottom of gallon or quart cans of paint to catch drips and prevent cans from tipping over. It holds brushes and other tools that can be carried along with the can. Kit also includes 3-in-1 Gallon Ring, which snaps onto top of gallon cans and provides built-in brush holder clip that allows brush bristles to stay wet at any level inside cans. Quart Ring provides same benefits as gallon ring, but without brush holder.
---
Original Press Release:
Peck Paint Products, LLC is Preparing to Launch Their New Product Called "The Paint Platter"

It is a very unique kit that includes their exclusive tray (The Paint Platter) that snaps on the bottom of gallon or quart cans to catch drips from the cans and prevent the cans from tipping over. It also conveniently holds brushes and other tools that can be carried along with the can.

This new patent-pending kit also includes a unique 3 in 1 Gallon Ring that snaps onto the top of any gallon can, including the new Twist & Pour plastic jug. This ring has something that no other company in the world has developed that they know of: a built-in brush holder clip that allows a painter to keep the bristles of a brush wet, at any level inside a can, for hours at a time if necessary. With the fast-drying paints manufactured today, it does not take very long at all for a brush to be left on the top of a can and become too stiff to use. This ring also has very effective double wiping bars incorporated into it and the top part of the ring keeps the groove of the can clean by not allowing paint to enter the groove and fill it up which is a pet peeve with most people when they wipe their brush on the rim of a can or pour paint out of a can.

The third piece in the set is a 2 in 1 Quart Ring that provides the same benefits that the gallon ring does, but it does not have a brush holder. As a whole, this new system takes the mess out of painting and makes it a much more enjoyable chore.

Phone: (716) 326-2262

Fax: (716) 326-2282

Peck Paint Products

36 Watson Avenue

Westfield, New York 14787

Contact: Gary A. Peck, President
More from Packaging Products & Equipment