Paint Applicators feature 2-roller design.
Press Release Summary: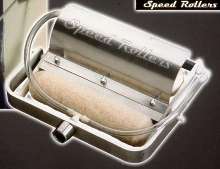 Offered as alternative to internally-fed pressure rollers or dip-and-roll painting methods, Speed Rollers(TM) use two 9 in. rollers, externally fed application system, and painter's airless-pump or sprayer to cover 100 ft²/min (Model 1188). Applicators employ balanced ergonomic design to minimize operator fatigue, and guard design minimizes splatter and drips. System uses standard 9" roller sleeves and can be used to apply any type of coating.
---
Original Press Release:

Coatings Industry Veteran Establishes Company and Introduces First Product - Speed Rollers(TM) Paint and Coating Applicators


Cleveland, OH - Coatings industry veteran, Shawn Donegan, has established Trac Tool Products, Inc. and has introduced the company's first product line, the Speed Rollers applicators. The applicator tool is said to apply paints and coatings at least two to three times faster than internally-fed pressure rollers or conventional dip-and-roll painting methods.

Through his over 20 years of experience in the coatings and property management industries, Mr. Donegan has seen first hand the challenges and needs of both those who apply coatings, and their clients who require high quality coating to be applied inexpensively and with a minimal interruption to daily operations.

"When I reviewed the Speed Rollers concept, I immediately knew this would revolutionize the painting industry in the same way the nail gun revolutionized the building construction and roofing industries," commented Mr. Donegan. "For contractors, increased labor productivity is the key to improving profitability. Speed Rollers applicators provide that leap in productivity without the over spray, poor finish quality, and high-maintenance requirements," he adds.

"Speed Rollers are designed for speed in application but also speed in training. In just five minutes, a novice painter can perform like a seasoned professional," he went on to say.

Joining Mr. Donegan at Trac Tool is the Speed Rollers inventor, Mr. Mike Puczkowski. Mr. Puczkowski, Trac Tool's Vice President of Development, brings to Trac Tool his experience as a professional painter and property manager. He has experienced first hand the challenges created by a lack of viable technology that makes possible the rapid application of a quality coat of paint.

Mr. Puczkowski developed Speed Rollers applicators to improve productivity for his own company, but he was determined that the tool also provide a more consistent finish than those produced by other application methods. "I have used spraying systems in the past to reduce painting time but spraying contact efficiency and the necessity for extensive prep work to accommodate over spray prevents painters from completely benefiting from the technology," Mr. Puczkowski stated. "The Speed Rollers' design uses two rollers, an externally fed application system, and the painter's own airless-pump or sprayer to give painters the best of both worlds: high speed and a high quality surface finish." Speed Rollers' unique technology that enables the rapid, easily maintainable system for delivery of paint is patent pending.

Also joining the company is Trac Tool's general manager, James O'Hare. Mr. O'Hare comes from Rockwell Automation, a leading supplier of automation products and services. He brings a broad management and marketing background to his role in directing the company's day-to-day operations including overseeing Speed Rollers applicator component suppliers, assembly, and shipping operations in addition to management of sales and marketing. "Of course the product itself is the star and the reason I'm so excited to be a part of Trac Tool. But the way we operate is also innovative," he adds.

"You might say that Trac Tool is a 'virtual' manufacturing company," Mr. O'Hare stated. "We are aggressively taking advantage of the wealth of advanced manufacturing know-how in northeast Ohio to rapidly design, prototype, manufacture and distribute the Speed Rollers product. We are absolutely dependent on our many manufacturing, marketing and logistics partners to help direct our rapid growth," he adds.

Speed Rollers is a revolutionary applicator accessory for pump and airless paint systems. It features an actuated paint delivery system that coats a top roller and then a second roller to maximize surface coating time while providing an even finish. The Standard Model 1188 has been field-tested to cover 100 square feet per minute, over three times the rate of conventional dip and roll painting methods.

These applicators also employ a balanced ergonomic design to minimize operator fatigue. Other features include a design optimized for fast cleanup and daily maintenance, special guard design to minimize splatter and drips, the use of readily available standard 9" roller sleeves, and the ability to apply just about any type of coating, including acrylics, alkyd, epoxies, block fillers, adhesives, and roofing materials.

Speed Rollers Standard Model 1188 is Trac Tool's introductory product. Additional models including a High Solids Applicator and an 18-inch wide unit are currently under development.

For more information about Trac Tool or Speed Rollers applicators, contact Mr. Jim O 'Hare at Trac Tool: 16116 Puritas Avenue; Cleveland, OH 44135; phone 1-800-340-6496, http://www. speedrollers.com.

More from Machinery & Machining Tools