Paddy's Bathroom Make a Splash With New Packaging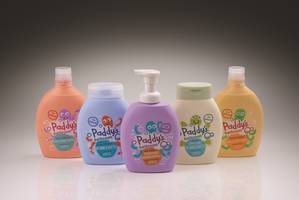 Named after his son, Paul Lindley founded Paddy's Bathroom with a clear mission in mind - to provide bath products that are natural, safe and fun. Paddy's Bathroom are also committed to providing clean and safe drinking water to families across Africa through the Drop Buy Drop scheme.
Paddy's new range of bubbly bath products is packaged by M&H Plastics, part of the RPC Group of companies, in vibrantly colourful bottles with matching closures. To reflect the unique nature of the Paddy's Bathroom brand, M&H was able to provide an affordable solution where the distinctively shaped bottles were given custom necks and an extra special soft touch finish that made the products even more fun!
Karen Poole, Marketing Manager at Paddy's Bathroom commented: "M&H were very committed to helping us find the best possible solution for our shoppers. They were creative and supportive during the design process and managed the complexities of our requirements well. Ultimately they have delivered very attractive packaging that perfectly fit the brief and the bath time occasion."
More from Paints & Coatings