Pad Printing Plates are engravable by CO2 and YAG lasers.
Press Release Summary: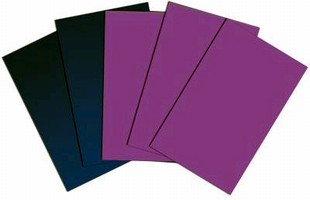 Etched by CO2 laser, Imperial Plates are steel backed and .018 in. thick. They provide depth and halftone control, are receptive to etching of small dots, and have life of approximately 20,000 impressions. Suitable for etching by YAG lasers, Cobalt Plates are precision coated to tolerance of ±.0001 in. for repeatability from plate to plate, and are typically good for 10,000 impressions per side. Both can be etched within minutes with no film positives or chemicals.
---
Original Press Release:
CO2 and YAG Laser Engravable Pad Printing Plates
Inkcups Now offers two types of laser engravable pad printing plate material. Imperial plate material (patent pending) is designed to be etched by C02 lasers; Cobalt plate material, by YAG lasers. The plates can be etched within only a few minutes, no film positives or chemicals needed. Imperial Plates are steel backed, .018" thick. They provide complete depth and halftone control, are especially receptive to the etching of small dots, and have a life of approximately 20,000 impressions. Cobalt Plates are precision coated to a tolerance of +/- .0001" for guaranteed repeatability from plate to plate and are typically good for 10,000 impressions per side. Imperial and Cobalt Plates can be etched using the Inkcups Now Cobalt laser systems or any CO2 or YAG laser system with advanced software, small spot size and quality power control - enabling a powerful and easy upgrade for the plate-making process. Inkcups Now Corporation is a manufacturer and distributor of pad printing and screen printing supplies, equipment, innovatory computer to plate laser plate-makers and inkjet printers for three-dimensional products. The company is committed to supplying traditional and innovative products at competitive prices and providing excellent technical support. The consumables are manufactured in-house, enabling rapid turnaround and thorough quality control. Offices are located in the U.S. (MA, CA, GA, RI) and Canada. For more information please visit www.inkcups.com Product page: inkcups.com/dotNet/pages/2e_supplies-plates.aspx Product brochure: inkcups.com/dotNet/pages/download/CO2_YAG_laser_engravable_plates.pdf Inkcups Now Corp. 20 Locust St., Danvers, MA 01923 info@inkcupsnow.com 1-978-646-8980 Technical contact: Mike Bissel Director of Sales Press contact: Maria Savelyeva Marketing Specialist
More from Materials