Pacline Conveyor Improves Efficiency in Apple Packing Warehouse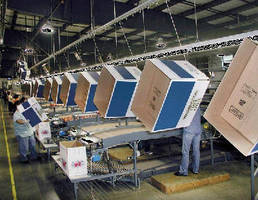 This empty carton handling system from Pacline Overhead Conveyors helps reduce congestion on packing lines and significantly improve efficiency.

Fruit packing lines are typically busy and congested with cartons, trays and other packing material. By removing the cartons and packing material from the floor area, packers become better organized resulting in increased productivity.

This enclosed track conveyor system is ceiling mounted to keep the floor space free and clear while delivering up to 20 cartons per minute to packing locations.

Packing cartons are conveniently transported over the packing area so packers can select them as needed.

The PAC-LINE conveyor system offers a full range of standard, pre-flanged conveyor components which makes the design and installation process simple.

The PAC-LINE conveyor has a universal link chain that travels inside a round conveyor track where it is protected from dust and other contaminants.

Visit the Pacline website (http://www.pacline.com) to learn more about automated carton delivery systems for fruit packing operations.


More from Fluid & Gas Flow Equipment