Packet-Switched Backplane takes CompactPCI cards.
Press Release Summary: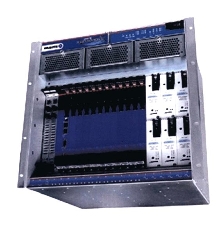 Carrier-class XL-VHDS (Very High Density Solution)accommodates 66MHz/64bit CompactPCI SBCs, PICMG 2.16, H.110 telephony bus, custom technologies, and switch fabric, all in one 10U chassis. Each slot has two 1 Gbit Ethernet ports connected to redundant switch. Chassis includes redundant system cards running management middleware for monitoring fans, blowers, power supplies, and power input. All system management data is readable by remote system administrator.
---
Original Press Release:
New Carrier-Class CompactPCI Packet-Switched Backplane Platform Solution Combines Unlimited Off-the-Shelf Configurations and Exceptional Delivery

Modular Design Enables Designers to Economically and Quickly Construct a Variety of Systems

SUPERCOMM 2002, Atlanta, GA, June 2002 -- Kontron, one of the leading global embedded computer technology companies, has introduced a unique, modular CompactPCI Packet-Switched Backplane platform solution that offers the communications developer community an almost unlimited number of off-the-shelf configurations combined with exceptional time-to-delivery.

As part of Kontron's Xtreamlink family of CompactPCI platform solutions, the XL-VHDS (Very High Density Solution) provides an extremely high performance solution for Internet infrastructure and other communications applications that depend on high-end, carrier-class grade solutions.

Compared to competitive systems, the XL-VHDS provides an unmatched level of density and processor integration while reducing floor space and infrastructure costs by up to 50%.

With its high modularity, OEM developers may utilize the XL-VHDS to combine technologies like 66MHz/64bit CompactPCI SBCs, PICMG 2.16, H.110 telephony bus, custom technologies and switch fabric, all in one system. This allows designers to quickly construct a multitude of high-performance systems, from media severs and IP-PBXs to core Internet routers and computer telephony softswitches. The design's migration to switch fabric configurations provides vast improvement to I/O throughput. A system built with the XL-VHDS can gradually scale up in capabilities as needs change, while still utilizing the earlier infrastructure.

"Because of its flexibility, high density, and reliability, this truly is a distinctive platform solution," said Jan-Philippe De Broeck, product manager at Kontron. "OEM developers in the communications field will discover a wealth of advantages designing with the XL-VHDS. It's a very low long-term investment for the most advanced, high availability modular system."

The unique design of the XL-VHDS provides increased performance and offers unlimited "virtual backplanes," increased reliability with backplane redundancy, and outstanding time to market. Snap-in backplane segments require as few as four screws to be safely mounted; systems can be configured in minutes.

Encased in a 10U chassis, the XL-VHDS offers the highest packaging of CPUs and interfaces so that each slot has two 1Gbit Ethernet ports connected to a redundant switch in a PICMG 2.16-like configuration.

The XL-VHDS has been designed for 5-nines system availability or better to enable development of a high availability system for mission critical applications through OS specific high availability extensions and IPMI-based platform management. The robust hardware design, redundancy of critical components, hot-swap functionality, and system and platform management mechanisms integrated into the XL-VHDS communications and computing infrastructure ensure maximum, continuous service regardless of internal system faults or failures.

System management capabilities include redundant system management cards running management middleware (monitoring fans, blowers, power supplies, power input with an LED display, and more) and management capabilities. All system management data is readable by the remote system administrator.

ABOUT KONTRON: Kontron is a leading global embedded computer technology company. Kontron supplies a diversified customer base of OEMs, system integrators and application providers in the communications, automation, transportation, medical, military, aerospace, test and measurement, and encryption security markets. The company helps its customers to considerably reduce their time-to-market and to gain a competitive advantage with products including high-performance open computer platforms and systems, single-board computers, man-machine interfaces and mobile computers. Kontron is a member of the Intel Applied Computing Platform Provider Program (ACPP Program). Kontron employs over 1100 people worldwide and has manufacturing facilities in Europe, North America and Asia Pacific. The company is listed on the German Neuer Markt stock exchange under the symbol "KBC".

For additional information on Kontron, please visit: www.kontron.com.

Kontron Media Contacts:

Media Relations

Jennifer Rodriguez

Marketing Communications Manager

Phone: 858.677.0877

jennifer.rodriguez@us.kontron.com

Technical & Pricing

Jan-Philippe De Broeck

CompactPCI Product Manager

Phone: 450.437.5682

jan-philippe.debroeck@ca.kontron.com
More from Adhesives & Sealants