Packet Processors target SMB market.
Press Release Summary: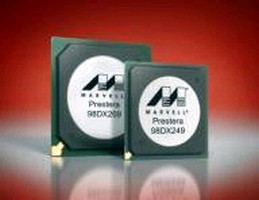 Enabling Distributed Switching Architecture, Prestera 98DX249 and 98DX269 provide hardware-based stacking in 2, 5, and 10 Gbps speeds, as well as 10 Gigabit Ethernet/12GE cascading. Units enable convergence of all applications into single platform with centralized management and Distributed Denial-of Service prevention. Processors are designed for wireless/wireline integration, supporting QoS/Security assigned to virtual user location, fast roaming, and inter-subnet roaming.
---
Original Press Release:

Marvell® Introduces New SMB Solutions for the Digital Office



Prestera(R) DX Solutions Drive Intelligence to the Network Edge, Accelerating Mobility, VoIP, Advanced Multimedia and Network Storage Applications for Small and Medium Sized Businesses

SUNNYVALE, Calif., May 2 /-- Marvell (NASDAQ:MRVL), the leader in storage, communications and consumer silicon solutions, today announced the immediate availability of a new set of Ethernet packet processor solutions optimized for the Small and Medium Business (SMB) market. The new Prestera 98DX249 and 98DX269 SecureSmartStackable family of products extends the flexibility and scalability of clustering and stacking, offering unparalleled resilient networks and business continuity architecture. The Prestera DX SecureSmartStackable family will be on display in the Marvell booth (#939) at Interop 2006 in Las Vegas, May 3 - 5.

The SMB market demands rapid business application and technology innovation. Some of the applications demanded by the SMB market include: VoIP, WiFi-enabled VoIP, IP collaboration tools, network storage, mobility for wireless devices, security, business continuity and more.

"Unlocking the revenue potential of SMBs is becoming a key initiative for hardware and service vendors alike," said Ian Eigenbrod, Senior Research Analyst with IDC. "The challenge in doing so is to continuously migrate the latest enterprise class functions and features to products with a smaller scale and aggressive price points, while minimizing the total cost of ownership. Semiconductor suppliers, such as Marvell, that can develop solutions which leverage the ubiquity and flexibility of Ethernet across a number of applications, will be well positioned to accelerate the growth of this emerging segment."

Marvell's Prestera SMB portfolio enables the convergence of all applications into a single platform, with capabilities previously available only in high-end enterprise solutions such as centralized management to reduce operational expenses and Distributed Denial-of-Service (DDoS) prevention. The resiliency of the Prestera DX SMB solutions reduces downtime, and offers clusters with seamless VoIP roaming. The flexibility of creating centrally managed, resilient clusters at various link speeds, and at multiple distances, allows networks to scale and size to a variety of solutions.

With mission-critical services such as voice migrating to all-Ethernet networks, resiliency and highly-reliable networks are key success factors for SMBs. The Prestera 98DX249 and Prestera 98DX269 enable a Distributed Switching Architecture (DSA) while keeping configuration to a minimum. These devices provide hardware-based stacking in three configurable speeds: 2Gbps, 5Gbps and 10Gbps. Together with 10Gigabit Ethernet (GE)/12GE cascading, Marvell offers the widest portfolio for intelligent stackable Ethernet switches.

"We are pleased with the rate of adoption for Marvell's DSA technology. Prestera DX stacking at any link speed offers the broadest portfolio for serving wireless access points, emerging VoIP services and network storage demands. Resilient networks at affordable costs will make a huge impact on the SMB market," said Paul Valentine, Vice President and General Manager, Enterprise Business Unit, Communications and Consumer Business Group.

Marvell delivers cutting edge solutions for the entire networking ecosystem and the Company is highly regarded as a market leader in both networking and storage technologies. The Prestera 98DX249 and Prestera 98DX269 leverage Marvell's this expertise to deliver network storage capability with the industry's best security features while enabling true, uninterrupted multi-streaming performance.

DSA is the Marvell technology used to tie all Prestera solutions into one resilient stack and a single management interface. The same technology is embedded in GE, 10GE and fast Ethernet solutions, enabling ODMs and OEMs to leverage existing software investments and to reduce time to market for new products.

About The Prestera DX Family of Products
The Prestera DX platform is designed for wireless/wireline integration, supporting Quality of Service/Security assigned to a virtual user location (either on the wired or wireless network), fast roaming and inter-subnet roaming. The Prestera DX wireless integration is cost optimized for wireless switch implementation, as both wireline and wireless features converge at the silicon level. The Prestera DX offers solutions from entry level up to stackable GE products with complete L2/L3/L4 and security features. All products are based on available system features, software capabilities, and advance customization and feature differentiation. Marvell solutions provide customers with fast time-to-market and riskless execution, while maintaining the upper hand in solution differentiation.

For further information about Prestera DX products, please contact a Marvell sales representative or distributor through the Company's website at: www.marvell.com/sales/index.jsp.

About Marvell
Marvell is the leader in development of storage, communications, and consumer silicon solutions. The company's diverse product portfolio includes switching, transceiver, communications controller, wireless and storage solutions that power the entire communications infrastructure including enterprise, metro, home and storage networking. As used in this release, the terms "company" and "Marvell" refer to Marvell Technology Group Ltd. And its subsidiaries, including Marvell Semiconductor Inc. (MSI), Marvell Asia Pte Ltd (MAPL), Marvell Japan K.K., Marvell Taiwan Ltd., Marvell International Ltd. (MIL), Marvell U.K. limited, Marvell Semiconductor Israel Ltd. (MSIL), RADLAN Computer Communications Ltd., and SysKonnect GmbH. MSI is headquartered in Sunnyvale, California and designs, develops and markets products on behalf of MIL and MAPL. MSI may be contacted at (408) 222-2500 or at www.marvell.com.

CONTACT: Diane Vanasse of Marvell Public Relations, +1-408-242-0027, or dvanasse@marvell.com

More from Material Handling & Storage