Packet Processor PCIe Card suits telecom applications.
Press Release Summary: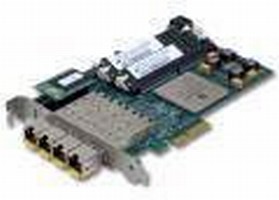 Supporting up to 12 processors, WANic(TM) 5654 features 600 MHz Cavium OCTEON(TM) Plus CN5650-NSP (network services processor) with hardware engines for encryption/decryption, TCP acceleration, compression/decompression, and pattern matching. NEBS-compliant solution also offers up to 4 Gbps line speed packet processing for layers 2-7, up to 4 GB DDR2 SDRAM packet memory, x4 PCIe connectivity, and 4 front-access GbE ports. Flash Disk and DDR SDRAM persistent memory options are available.
---
Original Press Release:

GE Fanuc Intelligent Platforms Announces High-Performance Packet Processor PCI Express Card For Key Telecommunications Applications



Enables new, dynamic applications for service providers and business enterprises

CHARLOTTESVILLE, VA September 16, 2008 GE Fanuc Intelligent Platforms, a unit of GE Enterprise Solutions, today announced the availability of its WANic(TM) 5654 high-performance packet processor. The WANic 5654 enables OEMS to develop wire-speed applications for telecommunications service providers and business enterprises to examine the content of traffic, gather statistics, perform traffic shaping and routing and to add other content aware services. Capable of supporting up to 12 processors, the WANic 5654 is a 4-port Gigabit Ethernet IP unit featuring the latest Cavium OCTEON(TM) Plus CN5650-NSP (Network Services Processor) 600MHz processor.

"Packet processing has the potential to be a significant contributor to the effectiveness and profitability of telecommunications providers," said Rubin Dhillon, Global Director of Communications Product Management at GE Fanuc Intelligent Platforms. "These specialized processors will allow network traffic to be analyzed and acted upon as it is being transmitted enabling new dynamic applications for security and other services that require awareness of traffic content.

"GE Fanuc Intelligent Platforms has the broadest range of form factors for packet processors in the industry, including ATCA, AMC, PCI-X and PCI-E," he added.

Because they are specifically designed for the application, packet processors offer several advantages over traditional network processors for processing data packets, including hardware engines for encryption/decryption, TCP acceleration, compression/decompression and pattern matching.

Designed for NEBS compliance, the WANic 5654 is an exceptionally high performance (up to 4 Gbits/second line speed packet processing for layers 2 - 7) packet processor for next generation network applications that are highly interactive and complex - yet must operate at multi-gigabit speeds. As well as featuring x4 PCI Express connectivity, the WANic 5654 also provides support for XAUI Ethernet board-to-board interconnect for multi-WANic 5654 implementations. Its Cavium OCTEON Plus CN5650-NSP Network Services Processor is complemented by up to 4 GBytes of DDR2 SDRAM packet memory and four front-access Gigabit Ethernet ports (1000BaseT or 1000BaseSX, either copper or fiber). Optionally available are 32Mbytes of DDR SDRAM persistent memory (used to store important state information for later use by network support personnel) and up to 4 GBytes of Flash Disk.

The WANic 5654 software implementation is a comprehensive development package designed to improve customer time-to-revenue. It is optimized to simplify application integration for multi-core processor development environments. The software includes Universal Boot (U-Boot) loader and comprehensive Power on Self Test (POST) firmware embedded in the hardware. A Linux Support Package (LSP) and sample application code designed to exercise the packet processor is provided to aid application development. The LSP includes a Linux Operating System and user application diagnostics. It loads user application code from internal Flash memory or an external TFTP server, and includes a well-defined Application Program Interface (API) to ease application development. Support for other operating systems is available upon request.

To further improve customer time-to-market, optional software modules such as an IPv4/IPv6 stack, IPSec, QoS management, multicast forwarding, IP filtering, VLAN, L2 tunneling and application programming frameworks will be available from GE Fanuc and/or its partners.

PCI Express is a trademark of PCI-SIG. OCTEON is a trademark of Cavium Networks. WANic is a trademark of GE Fanuc. All other trademarks are the property of their respective owners

About GE Fanuc Intelligent Platforms

GE Fanuc Intelligent Platforms, a joint venture between General Electric (NYSE: GE) and FANUC LTD of Japan, is a high-performance technology company and a global provider of hardware, software, services, expertise and experience in automation and embedded computing, with products employed in virtually every industry, including manufacturing automation, defense, automotive, telecommunications, healthcare and aerospace. GE Fanuc Intelligent Platforms is a worldwide company head-quartered in Charlottesville, VA, and is part of GE Enterprise Solutions. For more information, visit www.gefanuc.com.

For more information contact:
Ian McMurray
GE Fanuc Intelligent Platforms
t: +44 (0) 1327 322821
e: ian.mcmurray@gefanuc.com

More from Mechanical Power Transmission