Packet Processor Module supports 4G network elements.
Press Release Summary: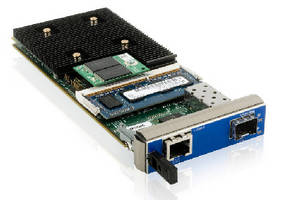 Based on Cavium Networks OCTEON® II CN6335 MIPS64® 6-core processor, AdvancedMC(TM) AM4211 can be used as eNodeB and LTE network element component or, in combination with full scale AdvancedTCA® blades, as co-processor NIC. Module can be scaled across both MicroTCA(TM) and 14-slot AdvancedTCA® platforms. With direct connectivity to FPGA/DSP AMCs in MicroTCA(TM) platform, unit offers complete solution for MAC processing and L3-L7 processing on single chip, achieving throughput up to 15 M packets/sec.
---
Original Press Release:

Kontron Announces First OCTEON II-based AMC Packet Processor Module



Improved time-to-market for 4G, LTE, WiMAX base station vendors with COTS-based AMC

Chicago, IL, - Today at 4G World Kontron unveiled its second generation of AdvancedMC(TM) packet processor modules featuring the Cavium Networks (NASDAQ: CAVM) OCTEON® II CN6335 MIPS64® 6-core processor. The Kontron AdvancedMC(TM) packet processor module AM4211 has already garnered interest from 4G network equipment vendors seeking a faster time to deployment using standards based hardware platforms such as AdvancedTCA® and MicroTCA(TM).

Platform design considerations for the Kontron AM4211 include using it as an eNodeB and LTE network element component or, in combination with full-scale AdvancedTCA® blades, as a co-processor Network Interface Card (NIC). The module can be scaled across both MicroTCA(TM) (Picostation, Microstation to Macrostation) and 14-slot AdvancedTCA® platforms. The new features of the CN6335 processor on the Kontron AM4211 support 1x 10GbE to the front and software configurable interfaces to the Fabric with either 2x PCIe x4 or SRIO which expands its application usage when configuring systems in combination with standards based third-party Digital Signal Processing (DSP) AMCs. The CN6335 processor also ensures the Kontron AM4211 delivers the best performance per watt compared to other multicore processors. Telecom equipment manufacturer (TEMs) will enjoy an undisputable advantage with its unmatched deterministic, low latency 3rd generation DPI performance capabilities with unlimited rules and a rich feature-set on a single chip that includes integrated security for a broad range of applications at the Core, Edge and Access network elements.

This next generation packet processor module delivers seamless, compatible evolution and can meet numerous market requirements when designing high performance 4G network elements, including - increased data plane performance with twice the performance per watt over existing alternatives; high density computing (9 GHz) within a stringent thermal budget (< 40W on 12VDC) making it an ideal candidate for an AMC system component. It is interoperable with third party AMCs based on DSP and FPGA. With direct connectivity to FPGA/DSP AMCs in a MicroTCA(TM) platform, it is a complete solution for MAC processing and L3-L7 processing on single chip, achieving a high throughput of up to 15M packets per second (pps).

"With the incredible strong demand for 4G/LTE mobile networks, there are increased time and cost pressures to design and deploy new LTE Network Elements which use proven high performance, low power and low cost L2-L7 multi-core processors like OCTEON II," said YJ Kim, Senior Director, Embedded Processor Group at Cavium Networks. "As a valued Cavium PACE ecosystem member, Kontron has been very successful with its first generation AMCs based on the OCTEON Plus 5650 series, and is on track for continued success with design win traction using the OCTEON II CN6335 Multicore Processors."

"We are extremely proud to have worked with Cavium Networks to design this unique AMC module," said Marc Leclaire, AMC, MicroTCA(TM), ATCA® Switch product manager at Kontron. "While it has a tremendous increase in functionality and exceptional performance for any number of 4G applications, it still remains the most cost-effective solution that is in line with the COTS ecosystem business model for ATCA®, MicroTCA(TM) and other implementations taking advantage of AMCs."

Additional technical features

Some key differentiators of the Kontron AM4211 with the CN6335 processor include the support of SRIO in addition to PCI-e Gen 2 and XAUI, plus a set of advanced hardware acceleration capabilities. This includes: 10Gbps+ for security, TCP packet processing and QoS; 4Gbps for 3rd generation DPI, 10Gbps+ for compression; 80Gbps+ for RAID/XOR/DeDup; and a schedule/synch/ordering engine for unlimited flows. The Kontron AM4211 supports GbE on Ports 0 and 1 connected to the CN6335 processor for control plane functions, and is fully software compatible with the existing Kontron AdvancedMC(TM) packet processing modules AM4204, AM4210 and AM4220 , ensuring it is an ideal candidate for configurations in the Kontron MicroTCA(TM) 1U platform OM6061.

There are two AdvancedMC(TM) options, namely Communication Processor (CP) and Application Acceleration Processor (AAP). The CP version incorporates general purpose MIPS64 cores and hardware acceleration for networking, while the AAP version adds hardware acceleration for security, regular expression, compression, RAID and de-duplication.

The 6-core OCTEON® II CN6335 processor at 1.3 GHz features one 72b and one 16b DDR3-1600 integrated Memory Controller and 12 Gen2 SerDes. There is a single SO-DIMM socket with up to 8 GB DDR3 Registered ECC SDRAM, another 512MB of DDR3 SDRAM employed for Regular Expression pattern matching engine memory (HFA), plus, up to 16GB extended memory via an USB Flash drive. As a massively integrated SOC, the CN6335 also incorporates SGMII with IEEE 1588 timestamp for Ethernet time synchronization, ideal for all-IP network infrastructure synchronization implementations in the 4G network.

The Kontron AM4211 is available now. For more information and to inquire about the Kontron AM4211 Software Development Kit and additional optional software modules such as an IPv4/IPv6 stack, IPSec, QoS management, multicast forwarding, IP filtering, VLAN, L2 tunneling and application programming frameworks, please visit:
http://www.kontron.com/products/boards+and+mezzanines/advancedmc/io/am4211.html

For more information about AdvancedMC(TM) modules, please visit: www.kontron.com/AdvancedMC

For more information about MicroTCA(TM), please visit: www.kontron.com/MicroTCA

For more information about AdvancedTCA®, please visit: www.kontron.com/ATCA

About Kontron

Kontron, the global leader of embedded computing technology, designs and manufactures embedded and communications standards-based, rugged COTS and custom solutions for OEMs, systems integrators, and application providers in a variety of markets. Kontron engineering and manufacturing facilities, located throughout Europe, North America, and Asia-Pacific, work together with streamlined global sales and support services to help customers reduce their time-to-market and gain a competitive advantage. Kontron's diverse product portfolio includes: boards & mezzanines, Computer-on-Modules, HMIs & displays, systems & platforms, and rugged & custom capabilities. Kontron is a Premier member of the Intel® Embedded Alliance and has been a VDC Platinum Vendor for Embedded Computer Boards 5 years running. Kontron is listed on the German TecDAX stock exchange under the symbol "KBC". For more information, please visit: www.kontron.com

All rights reserved.

Kontron is a trademark or registered trademark of Kontron AG.

PICMG® and AdvancedTCA®, ATCA®, AdvancedMC(TM), MicroTCA(TM) are trademarks of the PCI Industrial Computers Manufacturers Group.

All other brand or product names are trademarks or registered trademarks or copyrights by their respective owners and are recognized.

All data is for information purposes only and not guaranteed for legal purposes. Subject to change without notice. Information in this press release has been carefully checked and is believed to be accurate; however, no responsibility is assumed for inaccuracies.


More from Material Processing