Packaging System works with bags up to 16 in. wide.
Press Release Summary: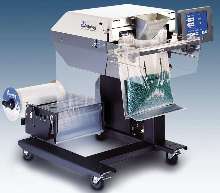 Equipped with built-in diagnostics, Autobag® AB 255 Large Bagging System performs package size changeovers in less than 2 min and bags at speeds up to 55 bags/min with automatic fill and seal operations. Designed as integrated system, product incorporates all electronic controls in one location (E-box), interactive AutoTouch(TM) control screen, friction carrier belt design, powered unwind feature and AutoThread(TM) function.
---
Original Press Release:

New Autobag® Packaging System Achieves Higher Productivity for Large Bag Applications


STREETSBORO, OH - January 6, 2004 - Automated Packaging Systems, the world leader in high-reliability packaging systems, will introduce the new Autobag® AB 255 Large Bagging System at the WestPack show in Anaheim, January 6 - 8, 2004. The AB 255 provides improved operating efficiencies for bags up to 16 inches wide, including faster operating speeds, enhanced reliability, built-in diagnostics, and minimized downtime.

The new Autobag AB 255 is capable of bagging at speeds up to 55 bags per minute, with automatic fill and seal operations. Package size changeovers can be achieved in less than 2 minutes using Autobag "Bag-on-a-Roll" preformed bags. This new bagger has been designed and engineered as an integrated system with ergonomic enhancements that improve ease of use, operator comfort, and machine efficiency.

The Autobag AB 255 represents next generation technology and design. An innovative "E-box" includes all the electronic controls in a single location with modular "Replace-n-Repair" components for fast plug-in replacement. This means if a technical problem should occur, the machine needs to be down for only minutes rather than hours or even days.

A large, interactive AutoTouch(TM) control screen provides quick and easy access to stored jobs and new set-up parameters. The system's high capacity memory makes multiple job storage easy. Operators are able to monitor production parameters and access diagnostic functions to quickly evaluate and rectify packaging errors. This advanced control screen is also moveable for easy viewing from any angle, and can be prompted to display one of five different languages.

A unique friction carrier belt design and powered unwind feature provides positive web alignment and tension control for accurate registration and bag positioning. The AutoThread function provides fast and easy bag changeovers without opening the machine.

The operating system contains powerful built-in diagnostic software to help operators identify, record and correct specific errors or technical conditions such as low air pressure, out of bags, pre-set count reached. It also offers three vantage points to identify a failed component, they are: AutoTouch control screen, E-box logic, and at the component level. This avoids the need to strip down machines to diagnose problems. A Help key provides prompts to identify error causes and suggests solutions, while in-circuit programming allows service engineers to connect via a communications port to update firmware.

Doug Ellis, national marketing manager said, "The Autobag AB 255 has been engineered from the ground up to improve productivity in wide bag applications. This new system will allow customers to automate many previously manual operations, including cables, harnesses, and materials packaging. We also expect the unit to streamline medium to large volume fulfillment operations."

The Autobag AB 255 is available with optional printer accessories. The PI 412cw is a premium in-line thermal printer that combines label printing into the bagging process with alphanumeric, text, and barcode information, plus graphic capabilities. This programmable unit prints virtually all bar codes and type fonts available today, and up to 8 megabytes of stored graphic designs. The PI 412cw will print at speeds up to 12" per second and includes a 16-inch wide carriage.

About Automated Packaging

Automated Packaging Systems has been designing and manufacturing original Autobag systems and products for more than 40 years. With more than 25,000 packaging systems in operation and a national service organization of more than 30 Field Service Engineers, Automated Packaging Systems delivers a total systems approach for ultimate customer satisfaction. The company's "System Advantage" program offers genuine Autobag materials and services with performance guarantees and priority pricing.

www.autobag.com

More from Test & Measurement