Packaging System supports pick-and-place and palletizing.
Press Release Summary: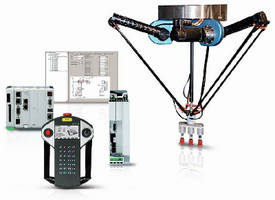 Integrating robots, vision systems, and conveyor belts, KeMotion Packaging Solution provides palletizing cycles of 15 packages/min and pick-and-place sequences up to 220 picks/min. KAIRO robot command set facilitates intuitive programming and integration of vision and tracking systems, while integrated, dynamic robot model provides continuous, forward-thinking movement analyses for sequences at max speed. Occurring torques always remain below allowed limit, resulting in minimum cycle times.
---
Original Press Release:

KeMotion Packaging - The Turbo for Packaging Robots



Packaging without limits in pick&place and palletizing applications

KeMotion Packaging from KEBA makes automating packaging processes in pick&place and in palletizing applications superfast and easy. One main focus is convenient integration of robots, vision systems and conveyor belts as well as a comfortable configuration and rapid programming of the entire machine and robot application.

Robotics, PLC and HMI are joined together perfectly through the integrated control concept. This results in best-possible synchronisation of the whole packaging process where it would otherwise not be possible.

Significantly increased machine productivity and greatly reduced system complexity are additional advantages of the KEBA packaging automation solution. Furthermore the universal operating concept scores as does the implemented factory support of 20 different robot types. Easy operation and programming of the packaging machines is thus ensured. With KeMotion Packaging time-consuming learning of different robot programming languages is a thing of the past.

Record-breaking start-up times

KEBA's own KAIRO robot command set, with its numerous ready-made command and configuration modules, plays a key role in easy and rapid programming of applications. It facilitates intuitive programming and simple integration of vision and tracking systems including 3D support.

The also available off-line editor is equally as simple to use. You can already prepare control programs even before the corresponding hardware is available. This saves valuable time; the final optimizations can then be done directly on the robot using the convenient online teach-in function.

Optimized to the particular application

The high-grade scalability of the entire hard- and software guarantees complete systems that are individually matched to your needs with an optimal price/performance ratio. From single and multiple axis applications conforming to PLC Open, to eightfold Multi-Robot Operation with maximum utilisation of the physical limits, KeMotion offers the right system configuration for every possible requirement. The integrated, dynamic robot model provides continuous, forward-thinking movement analyses for sequences at maximum speed. Occurring torques always remain below the allowed limit. This results in minimum cycle times as well as in extended durability of the robot mechanics.

Flexible palletizing with database connectivity

KeMotion Packaging accelerates palletizing cycles to a remarkable 15 packages/minute. Highest productivity and shortest processing times are guaranteed.
Both simple and complex packaging patterns are supported. The convenient option for integration of any palletizing data format and the connectivity to databases allows rapid modification of palletizing patterns and provides high flexibility during product changeovers.

Pick&place with maximum speed

KeMotion Packaging ensures fast pick&place sequences - up to 220 picks/minute are realistic (25/305/25 mm, 0.8 kg). What's more, setting up the entire system is child's play - and fast - thanks to the setup guide for robots, vision systems and conveyor belts. Cognex InSight integration is already preinstalled ex works. Conveyor belts can be arranged completely free in space, configuration of robot cells is possible easily without any restrictions.

KEBA Industrial Automation

The technology expert for optimized branch solutions

KEBA AG is an internationally successful high-tech company based in Linz, Austria. In line with its credo, "Automation by innovation", KEBA develops and produces inventive, top quality automation solutions for the industrial, banking and service branches. Indeed, as a result of competence, experience and courage, KEBA is the technology and innovation leader in its respective market segments. In the industrial automation business area, KEBA focuses on the automation of machinery and robots, as well as the production of mobile operating devices and control systems.

Further information:
Werner Hentscholek
Marketing Communication, Industrial Automation
KEBA AG
Gewerbepark Urfahr, A-4041 Linz, Austria
Phone: +43 732 7090 - 22610
hnt@keba.com
www.keba.com

More from Communication Systems & Equipment