Packaging Robots increase efficiency for food producers.
Press Release Summary: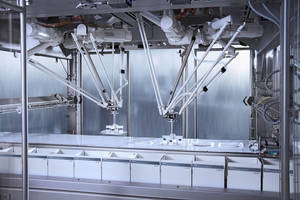 Based on open frame platform featuring GD series Delta robot, this hygienic series offers modular and standardized robotic solutions with application-specific options. D3 robotic platform handles payloads up to 3 kg and speeds that can increase pick rates. Designed for quick changeovers as well as simplified use and maintenance, solutions feature Gemini 4.0 Delta robot controller and software that enable new product formats to be simulated offline without need for physical products.
---
Original Press Release:

Bosch Launches New Robotic Packaging Portfolio



Modular robotic machine portfolio for easy line automation

• Focus on versatile solutions by combining standardization and customization

• Simplified robot and frame design increases performance and lowers total cost of ownership



Bosch Packaging Technology, a leading supplier of robotic technology for primary and secondary packaging solutions, has fully redesigned its Delta robotic packaging portfolio to give food producers more versatility and performance. Based on an open frame platform featuring the latest GD series Delta robot, the new portfolio offers modular and standardized robotic solutions with application-specific options. Bosch's enhanced D3 robotic platform handles higher payloads up to three kilograms and ensures faster speeds to increase pick rates. Designed for quick changeovers, simplified use and maintenance, it allows manufacturers to achieve a lower total cost of ownership (TCO) and a shorter return on investment (ROI) period.



"With the launch of the D3 robotic platform we offer a highly versatile portfolio of primary and secondary packaging solutions. The new modular and scalable design enables multiple robot solutions by combining standard machine modules. Through increased modularity Bosch demonstrates its commitment to engineering customer-focused technologies that enhance productivity, reduce TCO and enable a faster time to market," said Marc de Vries, sales director, Bosch Packaging Technology SA. "Combined with added flexibility, the platform helps our customers leverage robotic automation to generate competitive advantage."



Broader application range enhances versatility

The D3 platform includes several features that improve packaging efficiency and enable manufacturers to meet the growing demand for diverse products, such as biscuits, cereal bars, chocolate, confectionery treats, baked goods and vertically packaged products. "Many customers look for robotic packaging equipment that can handle a great variety of products on the same machine," said de Vries. "By increasing performance, payload capability and working volume height as well as offering optional fourth and fifth axes for improved product rotation, we have significantly extended the application range."



With the industry-leading Gemini 4.0 Delta robot controller and software new product formats can be simulated offline without the need for physical products, reducing set-up and installation times. The simplified platform design also promotes faster changeovers and ease of use.



Easier cleaning leads to greater food safety

Another advantage of the D3 platform is the hygienic and open frame design with fewer parts and better visibility of moving elements which helps manufacturers comply with increasingly stringent food safety regulations. The control cabinets are positioned on top of the machines, enabling operator access from both the front and rear, which reduces cleaning and maintenance times.



Fully modular to increase manufacturing flexibility

Being a part of Bosch's Module++ single-source provider concept for simple and modular line automation, D3 robotic solutions can be easily integrated with both Bosch and third-party primary or secondary packaging machines. The D3 platform has been designed to increase flexibility for small- and medium-sized as well as multinational companies. The new portfolio offers flexible and scalable robotic solutions that allow customers to adjust quickly to current production needs and to reach future manufacturing goals.



Contact:

Marc de Vries,

phone: +41 21 633 5200



Contact person for press inquiries:

Christin Poenisch,

phone: +49 711 811 58502



Copyright© 2001-2015 WorldPressOnLine SAS. All Rights Reserved

More from Software